By Andru McCracken
---
When Daniel Jason Keen produced an enlarged, doctored photocopy of a driver's license, law enforcement may have thought they had a clear case of forgery on their hands, but Keen was cleared of all charges in court last Thursday in Valemount. A shoddy document got Keen into trouble, but a shoddy set of documents presented to the court got him out.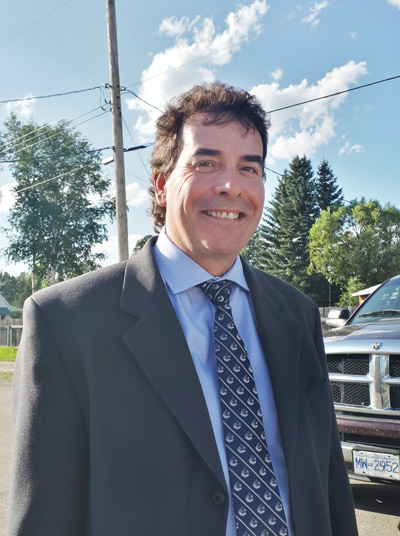 Keen was pulled over for speeding south of Valemount at 117 km/h. When Allan Coleman, a Commercial Vehicle Safety Enforcement Officer approached the tractor trailer unit, Keen, the driver, jumped out and ran around the truck away from the officer.
Coleman demanded the man get back in the tractor unit and when he did, Keen produced the registration papers for the tractor and trailer along with a photocopy of his driver's license enlarged to 8.5 by 11 inches.
Keen said his wallet had been stolen.
The enlarged photocopied Alberta driver's license raised questions for Coleman. In court Coleman said that the last number in the expiry date appeared to have been altered.
Coleman and the other attending officer had Keen bring his truck to Valemount where he could double check the expiry date of Keen's driver's license with an interprovincial database. Coleman then contacted the RCMP for support.
Keen was in court on two charges, sections 367 and 368 of the Canadian Criminal Code, forgery and using a forged document.
Whatever Coleman, and later, investigating officer RCMP Constable Marc Tremblay saw in the database was not presented to the court because it didn't meet the threshold provided in the Canada Evidence Act.
The court allows copies of original records from a variety of sources as evidence, but they need to be certified true copies of an original document. Keen's lawyer Shawn Buckley argued that documents submitted by the Crown, including a summary driver's abstract (and what Coleman and Tremblay saw on their database) did not meet the requirements for evidence. The judge agreed and when handing down his judgement referred to them.
"… there is evidence in those documents that might have suggested a different expiry date or whether there was a license in effect at the time in question."
Then Buckley argued that the remaining evidence, an 8.5 by 11 inch photocopy of a driver's license didn't prove that Keen had done anything wrong.
"It is suspicious that the numbers were altered, it is certainly to Mr. Keen's benefit that the number was altered, but I can't say that he either knew or participated anymore than any other explanation. In my view I have to acquit him," said Brecknell. "I think the Crown could have made its case much better and made Mr. Keen's life a lot more difficult."