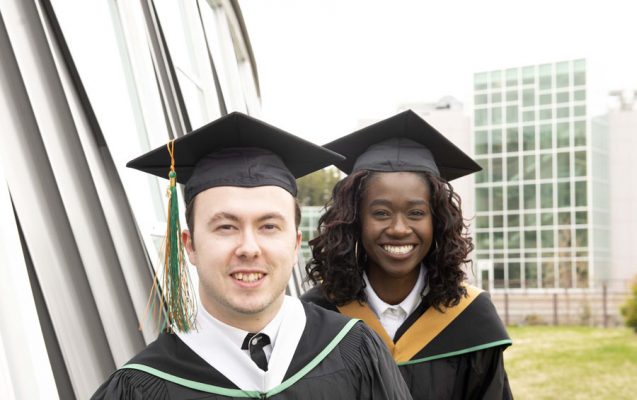 by Andru McCracken (with files from UNBC)
Emilio Caputo of McBride has been selected as one of two valedictorians for his graduating class at the University of Northern British Columbia.
Caputo is graduating with his Bachelor of Arts – Honours degree in History with minors in Philosophy and Political Science.
Emilio loves university.
"The central premise that people get wrong is that university is a stepping stone," he said. "It's not meant to build your career. I went to university to take history. It makes you a better person."
Emilio said that people believe social media is providing them with special insights; they get new information and regurgitate arguments.
"What I have learned is if you don't have a good argument, (at university) you will be shown very quickly how bad it is," he said. "The people you interact with aren't your average people. My professors have all dedicated 10 plus years to thinking. It is a different level of exposure."
On his very first night in residence, he was bunked with a bunch of athletes. They were in the cafeteria searching for cutlery and glasses, of which they had none, when there was a racist encounter.
"Some guy yelled out the N word," said Emilio. His brand new roommates asked him if he would help them confront the offenders.
Emilio said yes and a lasting friendship was made.
"They became my best friends from that night on for the whole year," he said.
Caputo grew up in McBride, B.C., enrolling in UNBC five years ago as a UNBC Scholar as the top student in his high school class. It didn't take him long to make a name for himself as an engaging student leader and a talented historian who cared about bettering UNBC's community, a UNBC press release says.
"I've travelled internationally, served in student governance, and conducted innovative research all because of the university I chose," he says.
"I thoroughly enjoyed the social environment at UNBC, where student engagement is exceptional and the faculty and administration are often quite caring. It's easy to find like-minded individuals who also have a passion for learning and enacting positive change."
Early on in his undergraduate career, Caputo joined the Northern Historical Student Society and later served in other capacities at both the university and in the broader community, notably as a Student Senator at UNBC and a Trustee on the Prince George Public Library Board. This year he was one of six Research Ambassadors who promoted undergraduate research opportunities at UNBC to the university community and high school students.
Upon being named a valedictorian for the Class of 2019, Caputo says, "to be selected by my fellow classmates, to represented them at a ceremony shared by us all, is perhaps one of the most significant forms of recognition."
"These past five years, I've enjoyed committing myself to better the community that gave me so much and I'm happy to see so many others do the same," he says. "Ultimately I see my role as valedictorian as one which I am offered a chance to celebrate the collective successes of our university and indeed the lives of all who have left their mark upon its halls.
As for what's next for Caputo, he'll be starting as an intern at B.C.'s Legislative Assembly in January 2020 and will consider graduate studies after that.
Abioye is graduating with her Bachelor of Science – Honours degree with a major in Biochemistry and Molecular Biology. She is from Brampton, Ont. and in the Fall of 2015 enrolled at UNBC where she quickly developed her passions in research, mentoring, community service and leadership.
Working under the guidance of Chemistry Professor Dr. Stephen Rader, her research involved RNA splicing and she is a three-time recipient of the Natural Sciences and Engineering Research Council of Canada – Undergraduate Student Research Award.