By Jean Ann Berkenpas
---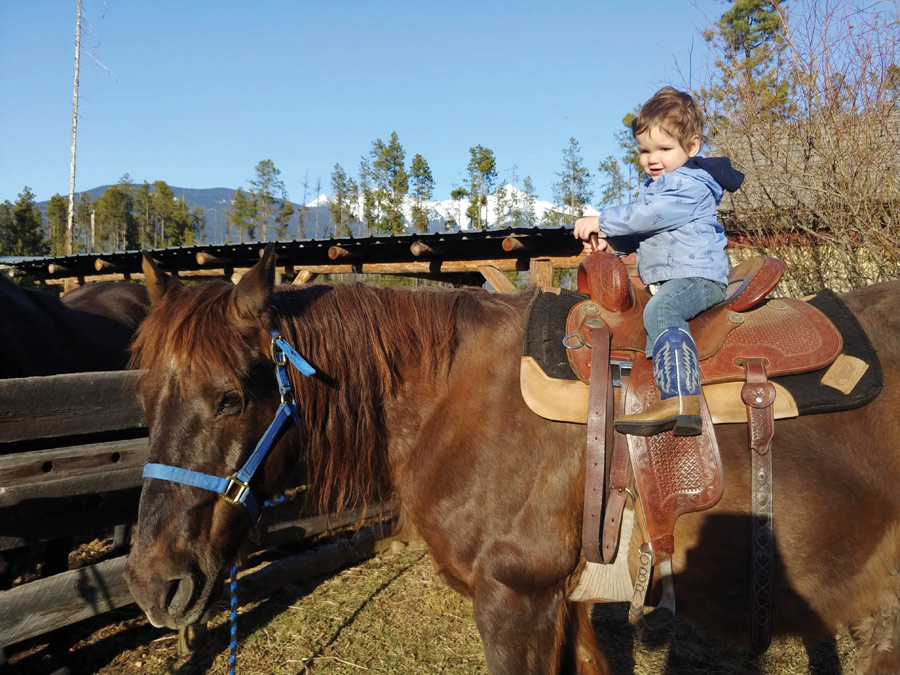 Barrel racing has been a part of Melanie Brown's childhood and now she is redefining it as a family experience with her twin toddlers in tow. Brown began barrel racing when she was 12 years old, after being inspired watching the rodeo in Jasper.
She continued to compete up until she entered a new phase of life. In the winter of 2017, she and her partner Travis Bryant became parents of twin boys.
The first summer after her twin boys Lincoln and Lennox were born, Brown did not barrel race.
"Life was chaotic and I was too exhausted to even ride my horses never mind race. I missed it so much and felt kind of lost.  I knew I needed to find a way to make it work for myself again.  I think it's very important for moms to still do the things they are passionate about," says Brown.
In order to make it work she has needed to be creative. Consistent daily training with two toddlers is a challenge.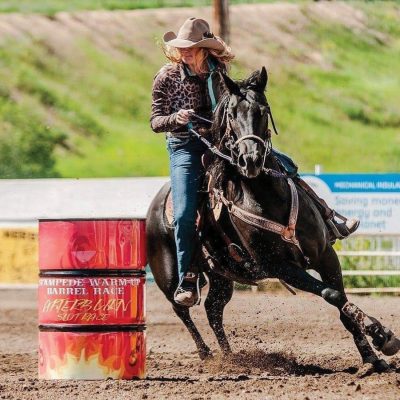 She aims to ride her horse Milly three times a week. "Luckily she knows how to run barrels really well and doesn't require much training on the pattern anymore. I really just have to keep her conditioned and in shape," says Brown.
On days when she cannot find someone to watch the boys, she can sometimes sneak in a quick ride during nap time. The baby monitor connection just makes it out to her riding arena.
A favorite for the kids is to take Milly out for a trot with the side-by-side. According to Brown "she actually loves to get out like this.  She sees all the sights and gets to stretch out her legs." Since the boys love being outside around animals and engines, day to day care and feeding of the horses is easy.
Brown's dad was one of her biggest supporters from the start. Her first barrel racing horse "Indi" was a gift from her father.
Well, it was actually a trade.
"I had won a fancy fishing rod at a fishing derby that my dad really liked. I told him if he bought me a barrel racing horse I would give him my fishing rod (fair trade right?) He found me my horse Indi," remembers Brown.
Indi had some previous barrel racing experience, and the two learned a lot together.  Their first competitions together were in Little Britches Rodeos, which evolved to High School Rodeos and eventually College Rodeos.
"I retired him from barrel racing a few years ago and he just recently passed away this winter at only 18 years old," says Brown. "It was very heartbreaking. I couldn't have asked for a more amazing first horse."
Brown continues to compete within BC and Alberta. When on the road for competition the, family uses a living quarters horse trailer. It has a back section for the animal and a front section for the family to live in. This makes it easier for roadside stops and camping at races, with the assurance of a warm dry place. Her mom travels with them often to help watch the kids or sometimes the twins will stay home with her partner Travis' mom. The boys' grandmothers are major contributors.
"It's always nice to enjoy doing the things you love with people you love! Most of these events are pretty family oriented," says Brown.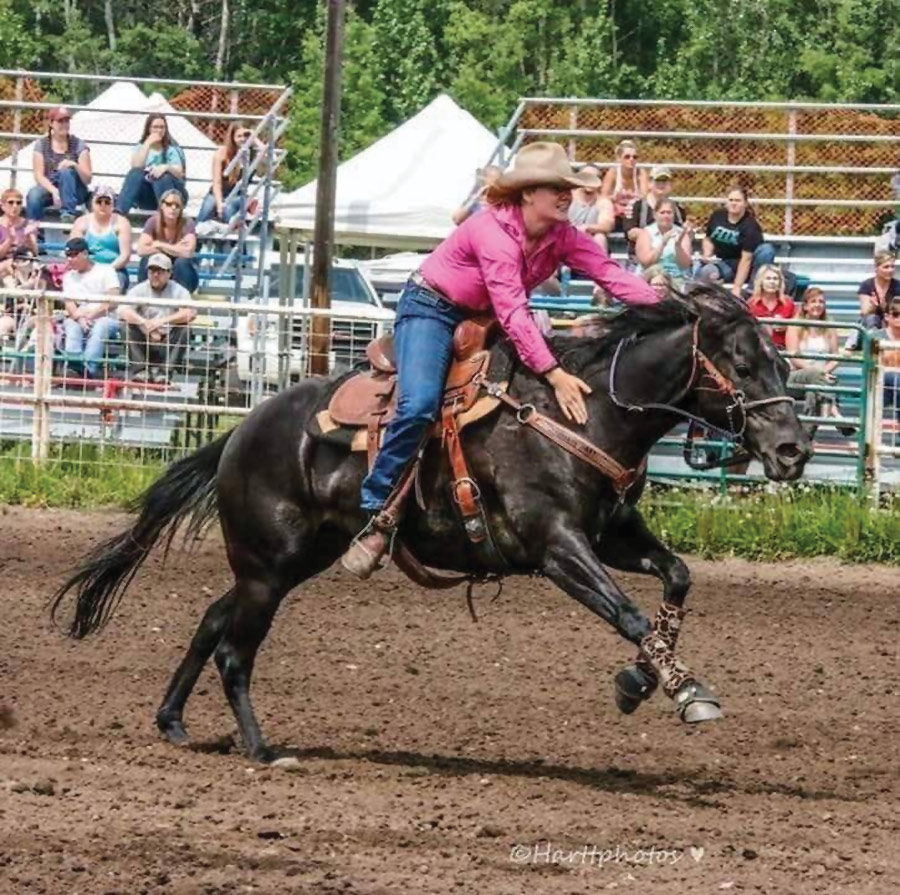 As far as highlights for Lincoln and Lennox, Brown says they "really, really love tractors, so I would say their favourite part about it all is watching the tractor groom the arena after every five runs."
Brown is appreciative of her supportive family. "They all know how important it is to me and I really am blessed to have them and appreciate absolutely everything they all do."
It is a rewarding and challenging experience, in which she is finding a new balance.
"The most rewarding part of barrel racing is having a huge fast animal with a mind of its own willing to cooperate with you and enjoy a sport just as much as you do." The travel and distance from competition venues is one of the biggest challenges facing Brown. While many of the women she competes with have access to races multiple times a week, Brown says feels lucky if she does one race a month.
"On the other hand, if we lived somewhere else I wouldn't be surrounded by our family and have the freedom and flexibility to probably even ride my horse or go to races at all," she says. "I am lucky to be doing this at all, at this point in my life."