by Laura Keil
---
The ground is thawing but there's still no word on whether Valemount Glacier Destinations will begin construction this spring.
The Toronto-based private equity firm MM Realty has been in the process of finding investors to fund the first phase of the multi-million dollar ski resort and sightsee project. The company's website was down for a period of time including in February, but is now back online and continues to show Valemount as one of its projects.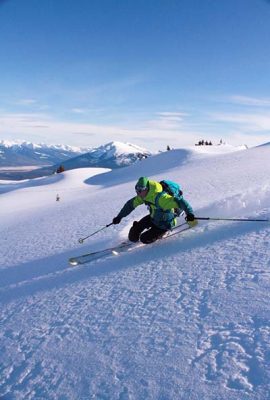 When contacted by the Goat February 26th, MM Realty President Greg Marchant said news was coming soon.
But as of April 8th, the Goat has received no further information.
A lead designer of the project, Tommaso Oberti of Pheidias Group, told the Goat Feb. 27th that he could not reveal anything regarding the financing, but said, "There is significant movement from Toronto," referring to the investment group.
The countdown is on, since the VGD project has only until 2022 for a project opening, a deadline set out in the Master Development Agreement, which was approved by the Province in 2017.
Oberti told the Goat last summer that if construction began this spring, the hoped-for opening date would be December 2020 or early 2021.
As of March 13th, neither the Ministry of Forests, Lands, Natural Resource Operations and Rural Development, nor the Ministry of Transportation and Infrastructure had received any permit applications for the ski resort.
Stay tuned to the Goat for the latest on this project.