by Andru McCracken
---
A massive numbers of trees killed by the mountain pine beetle in Alberta are being stockpiled in the Valemount area and it has locals concerned about the potential to reignite and epidemic that ravaged local forests.
About 22,000 cubic metres of wood is being hauled out of the Jasper National Park around the townsite. It's being stored in the mill yards in Tete Jaune and in Cedarside.
According to Resource Manager Dave Banham of the Ministry of Forests Lands and Natural Resource Operations, the mill owners importing the wood have a plan that will minimize the likelihood of an outbreak.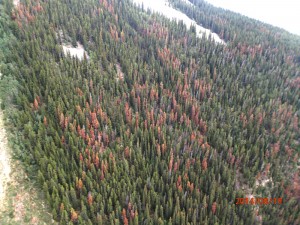 He said the majority of the wood is beetle-free. That is, the beetles attacked and killed the trees, hatched another generation and left to find more pine.
"We have had staff from our district office and Prince George have gone by and have a look at several of the stems, very few green stems were found," said Banham.
He said that the wood, currently decked in the Robson Valley, will be moved before the beetles have a chance to fly, which typically happens in July.
"The likelihood of something coming out of these decks is highly unlikely," said Banham.
Katherine Bleiker, a research scientist with National Resources Canada agrees, but said it might be wise to watch nearby stands..
"Insects have left the red-and-gray-attacked trees, so they don't pose a risk," she said.
Bleiker said that even if there is green-attacked wood on site, mountain pine beetle adults won't emerge until July. If the wood is milled by that time, the threat would be neutralized.
She said insects that emerge from imported trees will end up attacking the nearest large pines that are downwind.
"A prudent course of action would be to monitor susceptible pine trees around the […] sites in September or later in the fall," she said. "If any new attacks are identified, they could be controlled and the risk reassessed."
She said local populations of mountain pine beetle still exist in the valley, but numbers are so low they are difficult to detect.
"If conditions were favourable for another mountain pine beetle outbreak, these local populations could increase on their own," said Bleiker.