by Andrea Arnold
---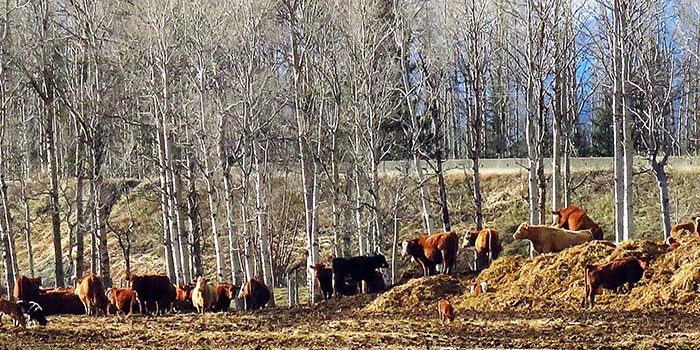 The McBride-area Farmers Institute was incorporated in 1915, and has seen the valley agriculture industry through more than a century of changes. But their focus has not changed through the years and the group and its purpose are still relevant today. They still value the production of food, and supporting local businesses. The group gathers and distributes information from the Ministry of Agriculture regarding programs available within the region. The Institute has expanded the definition of farmer though. Now, anyone who produces food can become a member of the group. "It's not just cattle anymore" said president Ron Westlund.  Bee farmers and market gardeners have begun to show interest in membership and the group hopes more join them in the coming year. They want to remind people that anyone who eats food, is already involved in agriculture.
The group is recognized by the area and the Ministry of Agriculture and often asked for their input and opinions on situations or decisions. "We are a community entity with a united voice," said secretary treasurer Chris Robson. "Our opinions are considered in community issues." Minister of Agriculture Lana Popham is working closely with the group, and has recently hosted an event attended by some local members, "Every Farmer Needs a Chef and Every Chef Needs a Farmer."
The group runs the Beaver River Stockyards. The site provides loading shoots, holding pens and scales for farmers shipping livestock. The location was also listed as a location that could be used by the animals when evacuees were forced from their farms due to fires two summers ago. It can be used by people travelling to rest their livestock overnight for a nominal fee.
On April 13, 2019 the annual Farmers Institute Dinner will be held at the Community Hall in McBride. Doors open at 5:00pm, dinner starts at 6:00pm and the dance begins at 9:00pm. tickets are available at The Farm Store, Welcome Home, The Dunster Store and Robson Valley Essentials ($25 for adults, $10 for kids 6-3 and kids under 2 attend free). This event is more than just dinner. There will be product booths and displays set up by companies from Prince George and McBride with information about equipment, seeds, fertilizers, bees and much more. There will be door prizes and a silent auction as well.  MLA Shirley Bond will be in attendance and be the guest speaker for the evening.  Westlund and Robson want to encourage everyone who is a part of agriculture to attend the evening. "This isn't an event just for the members," said Westlund. "It is an opportunity for non-members to get an idea of what we do, and for all attendees to educate themselves on different aspects of the industry."
Westlund and Robson would like to extend that same invitation to the community in regards to their meetings. On the first Tuesday of every month, the group gathers to discuss things that have been brought to their attention. Items like back road closures, caribou closures and the rezoning of Agricultural Land Reserve are ones that will be discussed in upcoming months. Items that require votes will be limited to a member vote only, but any member of the public is welcome to attend. If an individual would like to become a member, the only requirement is that they show an interest in agriculture in the valley, and they pay a $25 annual fee. Active production of a consumable is not required.