by Andrea Arnold
---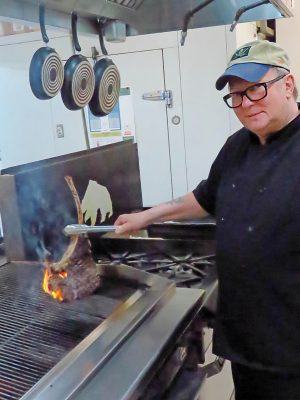 After just over a year of dark hibernation, the lights will once again shine from inside the Gigglin' Grizzly.
Executive Chef Ray Lovell and Chef Valerie Marcoff are reopening the McBride restaurant on Valentine's Day. They are hosting a five course dining experience from 5-8pm Thursday, Feb. 14th, 2019. Reservations for this event are required, and can be made by leaving a message at 250-569-0101.
The doors will open again for dinner at 5pm on Feb. 15th before starting a regular schedule on Saturday.
The opening is fast approaching, and the duo chefs hope they have created a roadhouse homestyle feel.
Lovell will be in the kitchen preparing food most of the time, while Marcoff will spend her time out front as the on-site manager. On occasion, these roles may be reversed as Marcoff is talented in the kitchen as well, especially in the area of desserts and pastries. The pair has over 50 years of experience between them, and each has earned Red Seal distinction.
Marcoff says they plan to use locally-sourced supplies wherever possible. Lovell says it will be a small set menu, with the possibility of daily additions based on what is available. He exudes joy at the idea of having freedom to create dishes: "I want to put fun back into food."
Some menu items have been derived from dishes they sampled while on global adventures. For example, the Grizzly Poutine stems from a dish they had in Portland, Oregon. They both agree that it was out of this world and they hope diners will enjoy their version.
Chef Lovell plans to offer a "Chef's Table." Diners who choose to reserve the table for this experience will be at the culinary mercy of Lovell.
"It will be a full five course higher-end meal, so it will be more expensive than the regular menu," said Lovell.
Those wanting this option are asked to reserve 24-48 hours in advance so Lovell can plan the dinner.
As with any business in a small community, they understand they will have slower months, and they already have some ideas for ways to involve the community by hosting events during these times. Lovell would like to bring in guest chefs to serve the community, allowing diners to taste new culinary creations (Lovell would still act as sous-chef). They also plan to offer cooking lessons.
"These classes will be small and revolve around a theme," said Lovell. "For example, if you and your friends want to lean how to cook a chicken, give us a call. We will make an evening of it. And you'll get to eat too."
Initially they will be open Thursday-Monday. Breakfast from 7-9am, lunch from 11am-2pm and dinner 5-9, but the hours may fluctuate as they get rolling. Breakfast will be open to families.
They agree their goal is to provide residents with a culinary destination, and to create events that bring people together. They also hope to create a setting that will cause a buzz among visitors and bring people back to the valley.