by Andru McCracken
---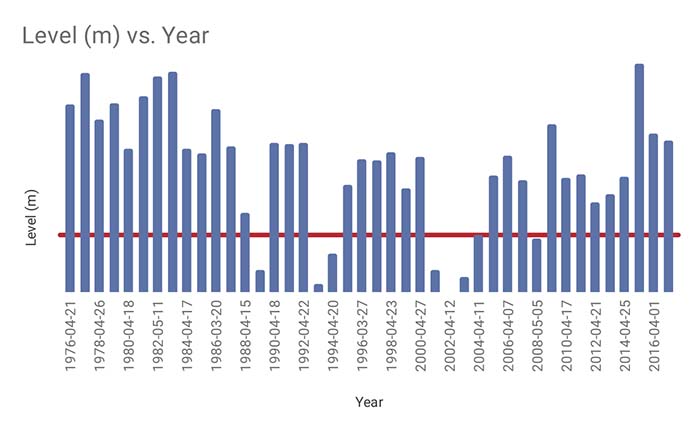 There is a chance that the main source of the Canoe Hot Springs could be revealed this year based on BC Hydro's the current reservoir forecast.
The news has hot springs enthusiasts like Mike Sato of Squamish, BC, keening for a chance to measure the temperature, flow and pressure.
"I haven't seen the hot spring source since 2008, so if the water level drops I would like to see it," said Sato.
Sato thinks that the location is great as it's closer to town than another popular hot spring location in the Kootenays.
"It may be possible to bring the water to a higher elevation, which would allow for an even better location for hot spring pools."
Sato has long been a proponent of building a modest natural public access hot spring at the site and has visited over 300 hot spring locations in North America and has been involved in the design and development of more than a few projects.
Sato's enthusiasm is understandable. This would be the eighth time in 40 years that the hot spring would be accessible, according to historic daily water level readings for Kinbasket Reservoir at Mica Dam.
In recent years locals have created small pools on the side of the reservoir that fill up with hot water.
The level of the Kinbasket Reservoir is controlled by the Mica hydroelectric dam near Revelstoke. The dam was built in the early 70s and became operational in 1974.
Jennifer Walker-Larson, a spokesperson for BC Hydro said a lot can change.
"We generate very complicated forecasts, and they almost never come to pass," she said.
In general however they have been generating a lot of electricity and the year has been dryer than usual. Without precipitation to fill up the reservoir, the levels are low.
"It's lower than average for this time of year," she said. "It's really uncertain at this point as it is really early in the operating season. Until we get to a couple weeks away [the forecast] is very inaccurate."
President of the Valemount Geothermal Society Korie Marshall said the hot springs don't really affect the work of the society in pursuing geothermal. The society hopes to take advantage of geothermal power development to create a broad economic development opportunities, including, but not limited to hot pools.
She understands why people are excited though.
"I think there will be people just waiting to get out there again this year," she said. "I don't think it really affects the work of VGS, it is just interesting to see how people get excited about this experience of a local hot pool we've essentially lost."
Before the reservoir was inundated there was a beautiful, if rudimentary, hot spring facility some 26km down the west side of Kinbasket Lake with a cedar tub and small outbuilding.