by Andru McCracken
---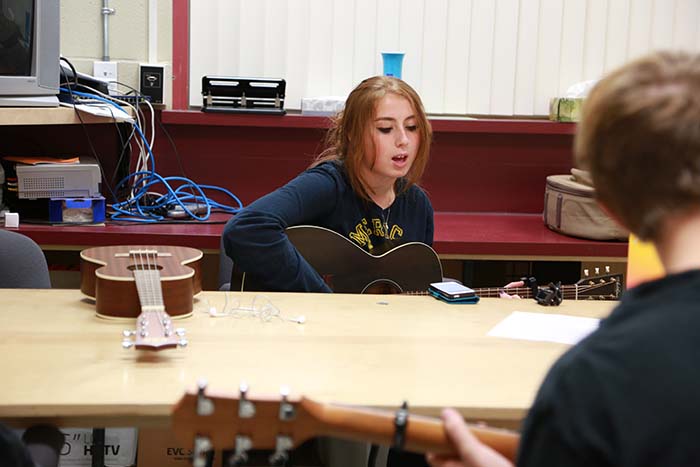 There are fewer students at McBride Secondary School this year but there is more on offer and it's because of an innovative time table that has changed the way the school sounds.
McBride Secondary School's principal Dan Kenkel said they have eliminated most of the bells that used to signal the beginning and end of a block.
"With our schedule too many bells would be going off all the time," said Kenkel.
As a result the students have to manage their time. 
"It's a little bumpy, but it's working," said Kenkel. He said they'll seek input from students this week.
"Ultimately this is their place of learning," he said.
But walking down the corridors of the McBride Secondary School, the bells have been replaced with a different sound: two students are in a small room off the main corridor; each holds a guitar and they are hunched over phones. They are learning a new song.
It sounds amazing.
Zaina Barrett and Alison Moore are making the best of the new curriculum. Both are happy they get to pursue their passion.
Kenkel said the new flexible schedule makes different demands of parents, teachers and students but the community is giving them the opportunity to 'feel it out and get it working.'
"It was one of the things on the wish list of the staff. How do we counter the impression that we are getting smaller and things are getting less?" Kenkel said. "This is a very progressive and innovative staff and a very supportive community to the school."
Kenkel said he's having regular meetings with staff and a weekly gathering with students to ask them what they think of the new system.
Kenkel said a new time table has more on offer so students don't need to worry about electives being blocked.
The new curriculum is about getting kids engaged in their learning.
"It's about finding a couple things kids are interested in and diving into the content and getting a rich experience in what they're doing," he said. "We call it our honours program, but it's for everybody."
Kenkel said teachers guide and coach kids and assess their learning, but the students plan and run the program. He said it augments the work they will have to do to graduate.
"It takes some time to plan. It takes a lot of creativity. It is an innovative way to look at high school," he said.
"The rewards are when you see the kid presenting their project."
Kenkel said the timetable helps the school meet the province's new curriculum, a curriculum that is about meeting the needs of 21st century learners, he said.
"Yeah it takes creativity and extra time, but the research suggests this is where real learning happens," he said.