by Andru McCracken
---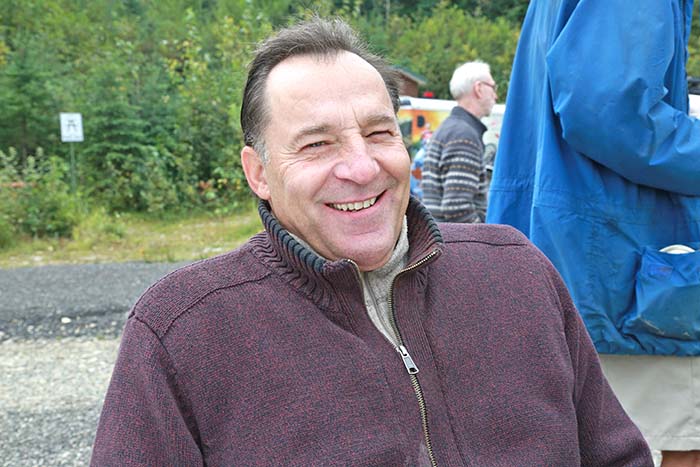 "What is it about nature that we go out in it and the peacefulness just washes over you?" asks Pat Harris.
Prince George resident Harris loves camping, campfires, and being in nature like many of us living in Northern BC. But enjoying mother nature's bounty is not easy for him.
"To a certain extent we are confined by our disabilities. Your world shrinks. The more severe your disability the smaller your world becomes," said Harris. Harris is at the Ancient Forest Park in a wheelchair; beside him, the tire of his motorized wheelchair attachment shows its wear.
"If you sprained your ankle, it'll slow you down a little bit, but when you're a high lesion quadriplegic and can't move your arms, your world shrinks to the four walls of your apartment or your house."
Being confined to a wheelchair didn't take away Harris' love of the outdoors. He appreciates the vision and work undertaken by Nowell Senior to make a part of the Ancient Forest Park accessible to everyone.
"You take a piece of property like this, the ancient forest, it doesn't lend itself well to wheelchairs like most of the outdoor spaces, but with the boardwalk it gets you into the forest and into the wilderness," said Harris.
"Nowell and his crew, the Caledonia Ramblers, have done an exceptional job with this boardwalk."
Harris accepts that not every place can be made accessible.
"There are just going to be some places where we cannot go unless you get some Sherpas," said Harris, "That's fine, but where it can be, a boardwalk is a good way to provide access."
Nowell Senior was entranced by the Ancient Forest Park and has been credited with spending about 5000 hours building the boardwalk, but the early vision wasn't about accessibility.
"We started off by building a very little rural trail in the forest. We never dreamed that it would become as popular as it did," said Senior.
Things changed for Senior when he realized that the people he worked with in Prince George, children and adults with mobility and mental health issues couldn't share the same experience.
"I realized after a year or two that they couldn't get here," said Senior.
That's when he envisioned the boardwalk.
More than 200 volunteers worked 6,000 hours over four years to build it.
Senior said the community of McBride supported the endeavor from day one.
"When we started building this boardwalk we had no money. We had a chainsaw, a box of nails and a tape measure. That was about it."
The McBride Community Forest supplied lumber for the first 50 metres of the boardwalk.
Now the boardwalk is 450 metres long.