by Laura Keil
---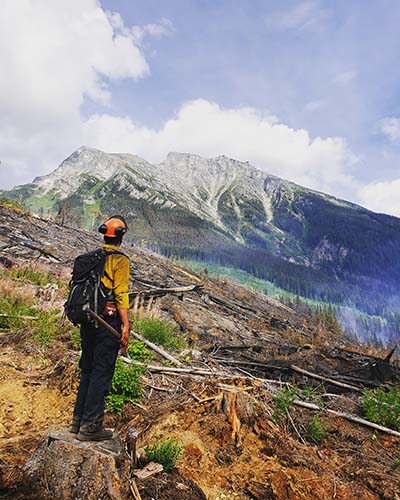 When you picture a high school grad's summer job, what do you see?
Some see 12-hour days fighting wildfires on slopes high above our valley.
The little-known junior firefighting program has been operating for years, but this is the first year in decades that it's run in the Robson Valley.
It's lucky for the four boys ages 17-19 who graduated from Valemount Secondary in June who have been picked up by local wildfire crews: Niam Karas, Isaac Williams, Chris Widell and Jeremy Rogers.
Valemount-based BC Wildfire Assistant Chikara Hiroe helped set up the program this year.  "I wish I had an opportunity like that when I was still in high school," he said.
The training for these crew members is much the same as a regular crew members, but they don't attend bootcamp (a physical test that occurs at the beginning of a firefighters career). Junior members complete coursework during the school year, which includes spending several weekends at the fire base.
The job comes a gruelling workload: crew members often work in the bush in 30 degree temperatures, 12-16 hours a day for 2 weeks straight.
Hiroe says it's like a two-month-long paid interview.
"It's a chance to build experience locally, recruit locally but also see if they're going to be a good fit or not."
At the end of the summer, should they like the job and apply to re-join, the junior member would attend bootcamp the following year, Hiroe says.
Qualities like good listening, ability to take direction and get along with other crew members are important in the field. Hiroe said mental fatigue is a risk and can lead to poor decision making. In proximity to fire, good decision making is crucial.
"You're making decisions that affect other people all the time," Hiroe says, noting the juniors are also given responsibility for gear – like trucks worth $80,000.
"We're looking for maturity or the ability to mature rapidly."
He says this year in particular has been demanding – the busiest one in the Robson Valley since he started 10 years ago. He said he's been surprised by fire behaviour on several fires this year. For instance, a Rank 3 fire in an old-growth cedar forest.
"It's a rapid shift from high school to a busy season like this," he said. "We've had a fairly good success this year."
"I think some of them are pretty tired but they're still having fun."
The juniors are restricted in some ways. For instance, they are not allowed to work directly on fires above Rank 3 (intermittent candling). But for most of the day they are doing the same tasks as other firefighters – using hose and tools to "mop up" large fires, helping secure a fireguard and learning about fire and smoke behaviour.
The juniors usually are usually the "Delta," the fourth member of the crews, which are normally just three people, though this year one junior was hired as a regular member due to a regular member's injury.
Hiroe says he hopes to get applicants from the McBride Secondary School in future, even though the positions are based in Valemount.