by Andru McCracken
---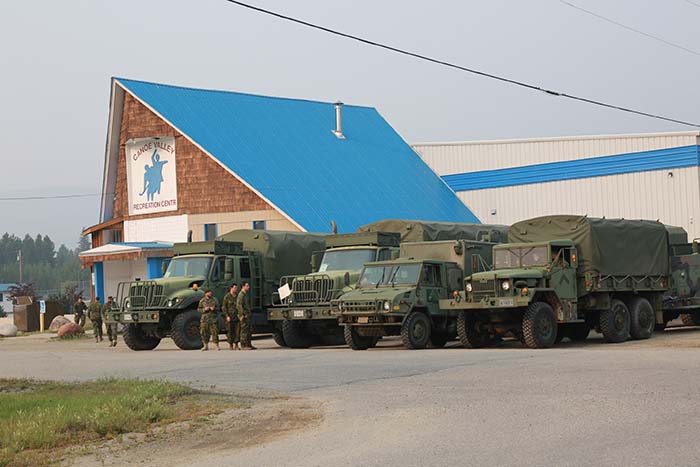 A convoy of 13 army vehicles and 26 soldiers rolled into Valemount last week. The soldiers were enroute to Vernon to help with fires in the area.
The soldiers were part of 1 Princess Patricia's Canadian Light Infantry according to Captain Bonnie Wilken.
They have been deployed to BC as a part of the Land Task Force of Operation Lentus.
Wilken said the soldiers will stay until the province is satisfied things are under control.
"Our liaison officers work closely with Provincial authorities to determine what those criteria are and we are committed to assisting their efforts," said Wilken.
Currently, approximately 100 soldiers from the Land Task Force are based in a fire camp in Merritt, BC. There is another group of soldiers running a headquarters/support function out of the Vernon Cadet Camp, according to Wilken.
"That location is the 'hub' where we push soldiers out to different positions," she said.
As of August 18, crews from the Merritt Fire Camp commenced mop-up activities at the Gottfriedson Mountain Fire and on Saturday, August 18th, approximately 35 Reserve Force members from 39 Canadian Brigade Group joined them there.
Wilken said Canadian Armed Force Members are not trained firefighters but they receive basic firefighting training.
"The training they receive prepares them to assist firefighters on a fire line that is under control or in the mop-up stage, or low in complexity and expected behavior," she said.
The Land Task Force is employing a mix of support vehicles consisting of medium and heavy transportation trucks, ambulances, maintenance, and utility vehicles. There are approximately 86 vehicles being used to support Land Task Force operations.