by Andru McCracken
---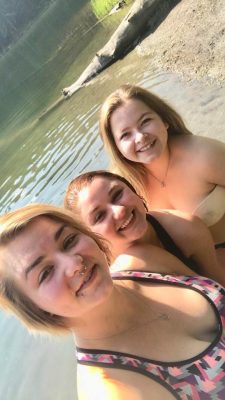 Returning from a hike at Little Lost Lake, three friends noticed some cars pulled off to the side of the road. Then they noticed smoke and flames in the ditch.
Paige Eldridge was at the wheel and she took action immediately.
She drove right up next to the fire and the hiking trio sprung out of the vehicle and into action.
Eldridge and fellow hikers Shaye Urchyshyn and Jayden Flynn fought the fire with everything they had – which wasn't much.
"We put it out with our feet, dirt, clothes, sweaters," said Eldridge.
Eldridge believes the fire was a few seconds away from reaching the forest.
"We had a couple of minutes at most," she said. "It was close."
Urychyshyn, a barista at the Gathering Tree by day, said she had no formal firefighting experience. They were operating on instinct.
"Because it was so close to the treeline we were panicking," said Urychyshyn. "It was on a steep hill and as we were trying to climb up, rocks were falling down."
Before long other passersby were pitching in too.
A man towing a trailer stopped and told the girls he had water.
"He stood on the highway and started chucking water bottles at us," said Eldridge.
For Eldridge and crew, having just hiked through the tinder dry forest, there was no mistaking what would have happened had the fire reached the forest.
"We saved a mountain," she said.
Urychyshyn said the blaze was likely from a cigarette butt.
The fire was on the opposite side of the highway from the Terry Fox Lookout on Highway 16, roughly halfway between the Hwy 5 junction and Mount Robson.