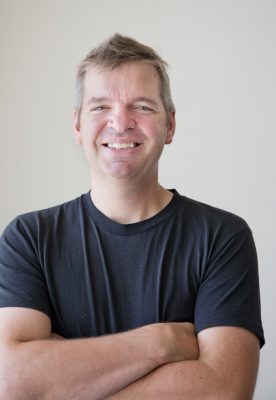 by Andru McCracken, Editor
---
It's Monday afternoon at the newspaper office and gnawing hunger has turned an affable, productive workplace into an unfriendly dead zone. Fouling moods and rapidly decreasing productivity demand sustenance. We need food or someone is going to get hurt.
At 1 p.m. Laura Keil, Publisher of the Goat and my wife, suggests we go for lunch for the fourth time. This time we take action.
Home is not an option. Entering the child zone adds a torturous emotional extraction we cannot afford on the day before production, so getting lunch somewhere else makes sense. At least on the exterior.
Hungry employees + food = productive worker, but getting lunch on a holiday Monday is a logistical challenge.  Where can we go?
Our usual place is closed. So we head to the highway, where we meet a busy road and busier establishments.
For a hurried, harried worker with a stack of work on his desk, it's too busy. It's bad busy.
I imagine that if they let cars drive willy nilly in the zoo, this is what it would look like.
Dietary requirements, timeline and long weekend closures send us to a gas station restaurant combo.
We dodge between hungry travellers.
Noon is when punctual people eat. 1 pm is when the discombobulated, less prepared people eat.
We step into a forebodingly long line up. Despite the long line in about 20 minutes we have our food.
We sit and eat. Our blood sugars rise and we relax and reflect. The establishment is gratuitously air conditioned besides the presence of 40 or so patrons overheated from soaring outdoor temperatures.
And the food is wonderful. Being hungry, naturally, helped. But, dang, it is good.
As people step in the door, they are not prepared for the long line wrapping around the restaurant. Like us, hunger and logic force them to stand in line, despite shaking heads. Like us, they breathe and take in their surroundings after getting their food.
I've often struggled with the sameness of franchise restaurants. The uniforms, decor, and menu. Regardless of location their fare is the same. I like the little places with quirky offerings as unique as the people who run them or the towns that they inhabit, weirder the better, like the tremendously odd Veggie Bob's in Langley or the quirky Spicy Greens in Prince George but on BC Day I came to appreciate the special role a franchise can play: Getting decent food quickly on the busiest day of the summer.