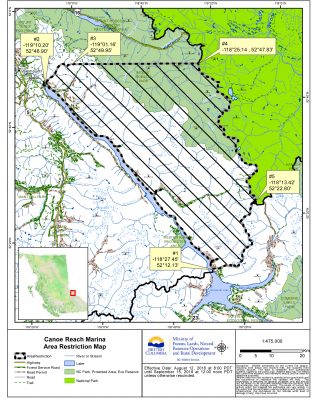 By Laura Keil
Starting today at 8am, the BC Wildfire Service is restricting public access to Crown Land in the vicinity of the Hugh Allen Creek wildfire, which is located about 60 km south of Valemount on Kinbasket Lake.
This area restriction begins at the 21km mark of the East Canoe FSR but the road is open from 0km to 21km. The public is not permitted to pass the Canoe Reach Marina on the East Canoe Forest Service Road.
The restriction is put in place to protect public safety due to the wildfire's rate of spread and to avoid interference with fire control activities, the Wildfire Service says. The order will remain in place until noon on Sept. 15, 2018, or until it is rescinded.
The Hugh Allen fire is now estimated to be 5,500ha in size and 0% contained.
Under the order and Section 11(2) of the Wildfire Act, a person must not remain in or enter this restricted area without prior written authorization of an official designated for the purposes of the Wildfire Act, unless the person enters the area only in the course of:
* travelling to or from his or her principal residence that is not under an evacuation order;
* using a highway as defined in the Transportation Act;
* travelling to or from an industrial activity or business location;
* travelling through or entering the area as a person acting in an official capacity; or
* travelling through or entering the area for an approved purpose of supporting wildfire suppression activities.