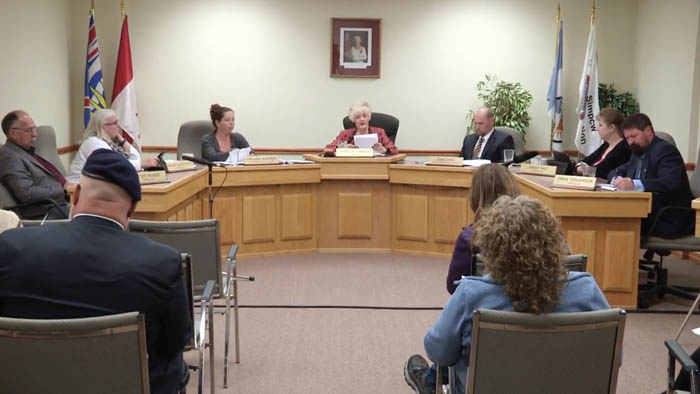 Mayor Jeannette Townsend, councillors Peter Reimer, Sandy Salt and Owen Torgerson, met on June 26, 2018. Interim Chief Administrative Officer Gord Simmons and Corporate Services Clerk Carleena Shepherd were the staff present.
Resident voices concern over Community Forest's logging close to town
Resident Tony Bild sent a letter to mayor and council stating they were complicit with the community forest to "totally denude every square inch of crown land within the populated areas to the south and north of the town." Bild feels this practise goes against promoting tourism, addressing air quality and climate change. Councillor Reimer said that insurance perspective on forest fires now require communities to be diligent around absence of fuel in immediate vicinity. "That is a pushback from the insurance industry," he said. Councillor Torgerson said that Community Forest is often logging at a loss to reduce fire hazard. Council agreed to send a letter to the resident jointly with Valemount Community Forest with this information and send a copy to the regional district.
Cleanup Update
Staff provided an update on the June 4-6 cleanup. In Valemount's first year participating with Major Appliance Recycling Roundtable pilot project, 19 items containing freon were received. Tarmigan Towing removed 12 derelict vehicles from town for a reduced fee. Councillor Torgerson thanked the students who helped with garbage cleanup around town.
Development Permit for 1150 5th Avenue
Council authorized a development permit to allow the placement of an accessory building at the rear of the property.
Public Art Grant Process
Council supported a partnership between the Village of Valemount and the Valemount Arts and Cultural Society (VACS) to pursue grant funding from the CBT Public Arts Grant. Council directed staff to draft a Public Art Policy. Since it is not possible to meet the June 30, 2018 deadline, VACS is looking at getting ready for next year's intake stream since there will be funding until 2020.
2017 Annual Report
Council approved the 2017 Annual Report that included a message from the mayor, audited annual financial statements, information on tax exemptions, municipal services and operations for the previous year and a progress report on objectives and measures established for 2017.
Land Use Planning Services Agreement with Regional District
Council agreed to sign RDFFG Regional Land Use Planning Services Agreement for a 4-year term from January 1, 2019 – December 31, 2022. Valemount's contribution would be $3,637 for 2019.
Financial Report
Council approved the 2017 Statement of Financial Information Report.
Council Procedures Bylaw
Council adopted Council Procedures Amendment Bylaw No. 786, 2018. The bylaw is required to advance the date of the first council meeting following a municipal election since the election date has changed by a month.
Officers and Employees Bylaw
Council adopted Officers and Employees Bylaw No. 788, 2018 that outlined roles and responsibilities of staff.
Lots for Proposed College Campus and Affordable Housing rezoned
Council adopted Zoning Bylaw No. 779, 2018 to support a post-secondary educational institution (to be constructed at a later date), as well as related offices and accommodations. The application was jointly submitted by the Valemount Affordable Rentals Society (VARS) and Valemount Learning Centre (VLC). The lot with motel will accommodate additional rental units to be constructed in the future. Council received information from VARS to clarify concerns that came up at the public hearing. VARS also provided a copy of the operating agreement between VARS and BC Housing. Councillor Reimer said the zoning amendment will enhance the area than depreciate it. He said he would like to see development plans moving forward. Interim CAO Simmons said that the zoning bylaw cannot be conditional, but council can ask VARS for development plans, a water line easement through the property and help with the vision of the Main Street special planning area.
Council Reports
Mayor Townsend, councillors Torgerson and Salt attended CBT Treaty Consultation meeting.
Councillor Reimer and Torgerson attended Community Forest's special meeting.
In addition, Torgerson attended a VARDA meeting, Reimer attended a Housing Committee meeting, Salt attended the TransCanada Highway Association meeting and the mayor attended the regional district meetings.
In Camera Items
Council closed the public portion of the council meeting to discuss five in-camera items related to personal information about person being considered for staff position or contract and negotiations related to proposed provision of a municipal service.