by Andru McCracken
---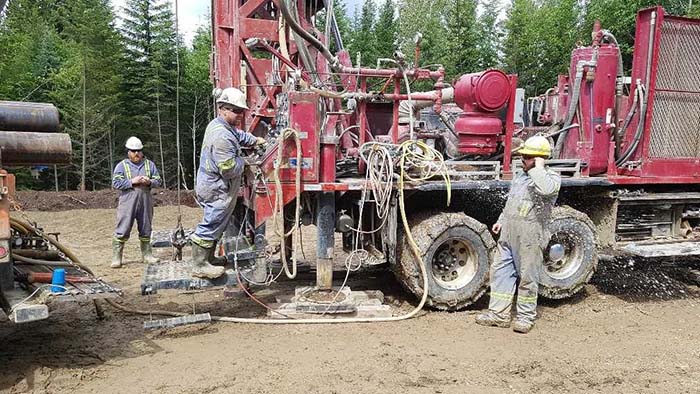 Borealis GeoPower is drilling test holes for geothermal heat and power on Kinbasket Reservoir and in the meantime a local society is preparing to take advantage of their work should it prove up.
If Borealis GeoPower is successful, the company will develop a power plant and provide opportunities for other heat users, but the local Valemount Geothermal Society has something else in mind.
The society has just received a temporary license of occupation from the land tenures branch and their intention is to develop a commercial hot pool.
Korie Marshall, president of the society, explained that getting a temporary license of occupation can take up to a year and a critical step if the drilling is successful.
"It is showing our interest. If we're going to do anything, it's our first step," said Marshall.
"It doesn't allow drilling or building. It means that we have permission to be there and look around. It gives us an 'in' to get information."
The Valemount Geothermal Society has been working on the concept for some time. They hired hot spring developer Mike Sato to develop a concept for a potential hot pool site this winter. In a two-page report to the society, Sato sketched a natural-looking pool that blends with the surroundings, typical of the traditional Japanese hot spring.
The society has had conversations with Borealis GeoPower about developing a hot pool project.
It is just one application possible for excess heat, and there are also some commercial uses for hot water, like commercial greenhouses and fish ponds.
About Geothermal Power
Canada is one of the few countries in the world with geothermal resources that has not developed geothermal power. The USA currently generates 3086.6 MW of power by way of geothermal.
The Canoe Reach has long been known to have geothermal heat. There was a hot spring used by locals before the Mica Dam flooded the valley turning it into what we now know as Kinbasket Reservoir.
Borealis in Valemount
Borealis GeoPower is a Calgary based energy company and they made their first public presentation to council on February 10, 2011 (A video of that presentation is available here: https://tinyurl.com/valemountgeothermal). Recently Natural Resources Canada funded the purchase of three 150 kW Climeon generator modules for $1,541,000. That investment seems to have had gotten things moving, because after 9 years, exploratory drilling has commenced.
Hot and Enterprising
For those wanted to know more about the progress of geothermal power in the valley, Marshall recommends joining the Valemount Geothermal Society and attending this summer's Make It Hot, Hot Pool Fundraiser and Geothermal Gala on July 24.
Chair of the fundraising committee Rundi Anderson said it's going to be a night of elegance and hot grooves at the Three Ranges Brewing Company to help raise money to ensure that Valemount gets a hot pool. Hot pool fans are encouraged to show up in swim wear or hot evening wear.