by Andru McCracken
---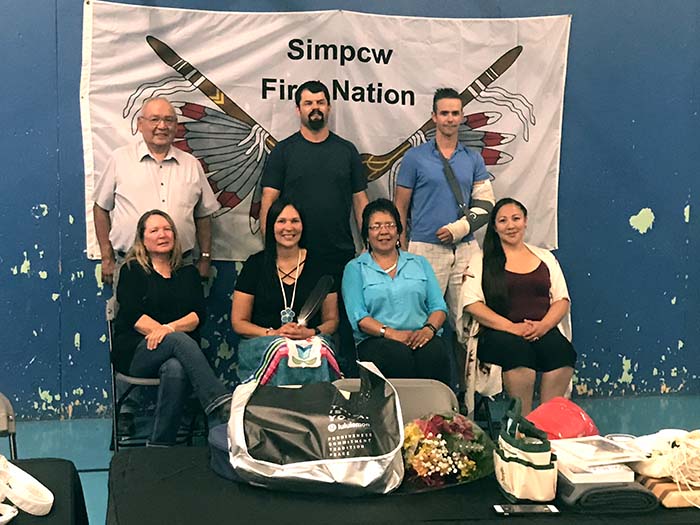 On May 31 the Simpcw First Nation swore in an almost completely new band council.
Shelly Loring is the new chief, and the new councillors are Tina Donald, George Lampreau, Ron Lampreau, Edward Celesta, Alison Eustache, and Alison Green. The off-reserve representative is Lori Eustache.
The Clearwater Times reported on the proceedings.
The ceremony began with traditional drums and singing and members took their oaths holding an eagle feather, reported editor Jaime Polmateer.
"I would like to thank our elders for coming tonight to witness this ceremony—my heart is happy," said Loring.
"One of the things I was thinking when I was driving up here was, I would like to see the elders lead us in; our elders represent the generations that are here now and the generations that have gone before us."
They've been the ones who've fought for the privileges, the rights and the protection of their water and land and everything that walks upon it, Loring told the audience, as reported by the Times.
"And that's how I look at the elders that welcome us in today; I have to raise my hands to (them) and say thank you, I will not forget you."
Loring said the eagle feather signifies the chief and council's commitment to work as one.
"One feather, one community and one council to work together no matter how hard it is," Loring said.
"In this feather I also see my commitment to working together within the Simpcw Nation and with all the other First Nations across Canada; that was the commitment I made when I accepted this feather."
A councillor from the Village of Valemount was present at the ceremony.
"We received an invitation from Simpcw First Nation Administration and I was delighted to attend their inauguration," said councillor Owen Torgerson.