by Ruby Hogg
---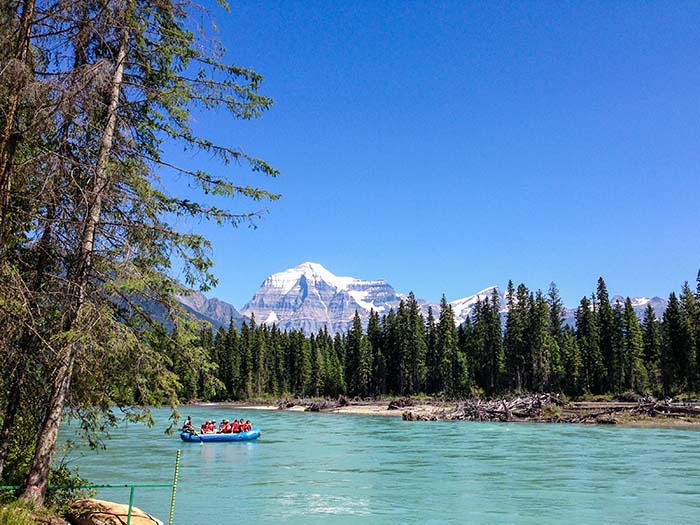 Summer has arrived, and with it comes the heat. Luckily, we've come up with a few ways to have you feeling cool all summer long.
Chasing Waterfalls
This valley is home to many beautiful waterfalls with an array of accessibility. Rearguard Falls, Overlander Falls, and Moose River Falls are some of the waterfalls near Mt. Robson that are just a few minutes walk from the highway. A more adventurous soul might want to hike up above Little Lost Lake to the nearby falls.
McBride hosts some impressive waterfalls as well. Morkill Falls is near Crescent Spur. While the hike is short please use care as there are no safety railings. Rainbow Falls is within close proximity to McBride, and is accessed via a short hike.
Kinbasket Lake
Spreading 160Km long, Kinbasket Lake is not a small body of water by any means. Luckily for us, it's most Western point is short drive from Valemount. With several campsites and beaches, it's the perfect place to set up camp for the night, or enjoy a nice wiener roast. Brave souls can test their stamina by jumping in the freezing cold water, or take a canoe out. The Marina at the 21km mark is a great place to put a boat in and go for a fish.
Self-Propelled non-motorized water sports
There are many places in the area to take a canoe or kayak out. Two great places for beginner paddlers are the Starratt Wildlife park (commonly known as the marsh) or Cranberry Lake. Both require very little portaging and are small enough that the shore is never too far away. Once you have the hang of it, Moose Lake, Lucerne, Yellowhead, and Kinbasket are more great options to explore.
Berg Lake Trail
If you haven't hiked this trail yet, drop everything you're doing, drive to Mount Robson, and start hiking. If Berg Lake seems a bit intimidating, there are many turn around places on the 24 km trail. A popular day trip is to hike from the parking lot 4.5km to the first picnic area near Kinney, and then back down. There is also a campsite and shelter at the 7 km mark.
White Water Rafting (Robson or Stellar)
There are two raft companies based out of Valemount that offer both white-water and gentle float trips. The float trip starts in Mount Robson Provincial Park. Prepare yourself for spectacular views of the Mount Robson itself straight from the boat. Float trips are suitable for all ages. Adventure seekers can choose to book a whitewater trip. These trips start further downstream. Be prepared to get wet, cool off, and have fun.
Escape to the Alpine
As a general rule, it's often a bit cooler in the alpine. There are multitudes of hiking tails in the Robson Valley that will get you high, but there is always also the option of catching a ride. Robson Heli-Magic offers customizable heli-hiking drop offs. It's such a treasure to be able to enjoy the alpine without all of the hard work.
Treats
If all else fails, throw the sprinkler on in the backyard or take the kids down to the playground to go through the "mister". Afterwards, take the edge off of the heat with an ice cream or iced coffee from the Gathering Tree. Or perhaps sit on the deck and enjoy a nice cool craft beer from Three Ranges. The opportunities are endless
Ruby Hogg is a founder of the blog Wide Open World, a platform dedicated to getting others outside. Visit it here: www.wideopenworld.ca