by Goat Staff
---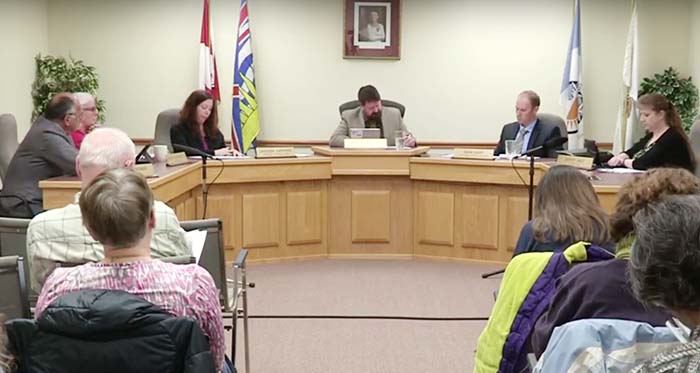 Acting Mayor Owen Torgerson, councillors Hollie Blanchette, Peter Reimer, and Sandy Salt met on March 27, 2018. Chief Administrative Officer Adam Davey, Corporate Services Clerk Carleena Shepherd and Director of Finance Lori McNee were the staff present.
Delegation from KPMG
Chris Collier, Senior Manager for Audit Practise from KPMG's Prince George office, presented the Village of Valemount's draft financial statements and audit results for the 2017 fiscal year. The annual surplus for the village is 1,672,813. Of this amount, 1, 147,983 is the equity in income from the Valemount Community Forest.
Correspondence from TransCanada Yellowhead Highway Association
The association informed that the Government of B.C. will soon be installing free, public Wi-Fi at the Highway 16 Mt. Terry Fox rest area six kilometers east of Tete Jaune, as well as wider cell coverage has been added along highway 16.
Late Correspondence from Valemount Affordable Rentals Society included
The Directors of the society (VARS) sent a letter to Council to address the reasons that CBT CIP/AAP Adjudication Committee cited to deny funding to VARS for its project. The letter said that at the public presentation, they could not give some information as announcement of funding towards the purchase of the Ramakada Motel had not been officially made. The letter also stated that the VARS project cannot wait for the next round of CBT/CIP funding.
Columbia Basin Trust Committee Recommendations
Council approved all the recommendations made by the CBT committee to provide funding of: $15,000 to the Village of Valemount, Housing Committee for Affordable Housing Sites Feasibility Plan; $15,000 for Valemount and Area Recreation Development Association for Valemount Bike Park Phase 4; $19,650 to the Valemount Children's Activity Society for VCAS Playground Rejuvenation; $7,000 to the Robson Valley Spay and Neuter Society for the Spay/Neuter/Vaccinate Project; $13,785 to the Royal Canadian Legion Valemount Branch #266 for replacement of kitchen and hall equipment and furnishings; $7,000 to the Valemount Minor Hockey Association for the VMHA Power Skating Camp; $6,495 to the Canoe Valley Community Association for the Child Care Licensing Upgrades.
Council accepted the Committee's recommendation to deny funding to Yellowhead Outdoor Recreation Association (in the amount of $20,000) for Five Mile Recreation Site Development Planning and Engineering; Valemount Affordable Rentals Society (in the amount of $59,280) for Valemount Affordable Rentals Society Start-up Projects; Robson Valley Support Society (in the amount of $36,164) for the Community Coordinator of Volunteers and Valemount Senior Citizens Association of BC (in the amount of $7,770) for the Circle of Security Parenting Program.
Comments by Council on decision by CBT committee to deny funding to VARS
Councillors Reimer, Blanchette and Salt commented on the VARS decision saying that they usually did not overturn the committee's recommendation unless there was a good, demonstrable reason. "It may seem like rubber stamping, but it's not," said Reimer. Blanchette said that the volunteer committee spent several hours of discussion and deliberation. (Torgerson did not partake in the VARS decision due to perceived conflict of interest.)
After all the decisions, Salt spoke to correct a general misunderstanding that all projects should be funded if there is enough funding. "These funds have to be worthy of disbursing," she said.
Spring Clean Up
Council approved June 5 as this year's annual 'Spring Clean Up Day.' This would be an opportunity for the entire community to discard derelict vehicles and other derelict household appliances. ABC Recycling, from Prince George, would be coming to remove these items. Additionally, Village staff will be on-site to assist. Three metal bins from ABC Recycling will be placed adjacent to Public Works compound, near the Fire Hall and at Legion Parking lot in late May to received metal waste such as lawn mowers, washers, dryers, etc. ABC Recycling will also remove derelict vehicles at a cost of $50 per vehicle, to be paid by the owner to the Village.
Zoning Amendment Bylaw 780, 2018 approved
Village of Valemount Zoning Amendment Bylaw 780, 2018 was adopted. The bylaw amends the zoning designation of 1430 King Road from Rural Residential 1 (RR1) to Rural Residential 2 (RR2) to support a second dwelling on the property; and amends the Zoning Bylaw's Short Term Vacation Rentals (STVR) regulations, to permit both residential and STVR use on the subject property. One STVR will be permitted per parcel. Combined uses will not be permitted in a residence with STVR use.
Council Reports
Councillor Salt attended the Trans Canada Yellowhead Highway Association meeting by teleconference.
Councillor Reimer was away but followed up with emails with the Valemount Community Forest.
Councillor Blanchette met with the CAO to discuss the Cleanup Property Initiative as well as attended meetings of the Housing Committee, Parcel Tax Roll Review Committee and CBT Community Initiatives Committee.
Acting Mayor Torgerson attended a VARDA meeting.
Public Comments
Bruce Wilkinson spoke on behalf of Valemount Affordable Rentals Society. He questioned the decision of the CBT Committee to deny funding based on the reasons the committee gave. He felt the application wasn't looked at properly as the committee did not give funding to his society but gave funding to another housing organization.
Wendy Dyson said that if a decision is not based on sufficient information, then the committee needs to know. She felt VARS' letter to council wasn't given consideration or discussion.
Jen Applebaum, who is a property manager, member of Housing Committee, board member of Valemount Learning Society and Valemount College and a contractor for VARS, felt that the work for affordable housing has to be done by a non-profit as she felt that a municipal housing authority is not likely. She was frustrated that while CBT and BC Housing was funding the purchase of the Ramakada Motel for student housing, the local CBT committee was not supporting VARS.
There were no in-Camera Items.