by Andru McCracken
---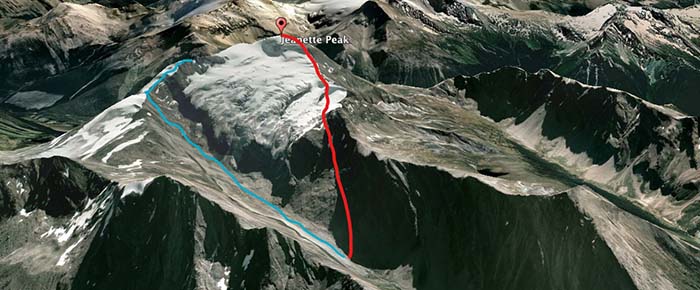 A group of climbers from Alberta and Minnesota made the first recorded ascent of Jeanette Peak on April 2nd, not far from the Village of Valemount.
Climbers Pascale Marceau, Lonnie Dupre and Vern Stice had a celebratory dinner at the Caribou Grill April 3rd and recounted their adventures to the Rocky Mountain Goat newspaper.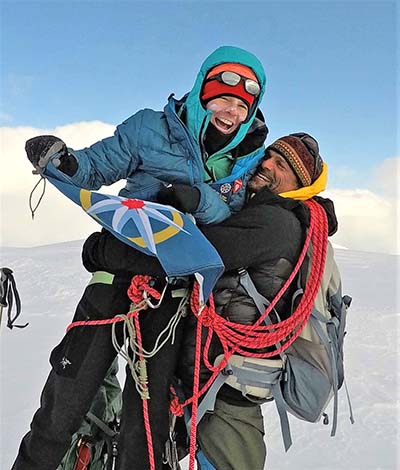 "The thing with going to any peak for the first time is there is no Beta," said Dupre. Beta is climbing slang for critical information required to ascend. "It's a lot of trial and error."
"We spent countless hours on Google Earth and topos," said Marceau, but topographical maps are no match for experience on the ground, as it turns out.
"We had plan A, plan B, plan C," said Marceau. Dupre chimed in "And none of it worked!"
"We landed in a completely different area."
Dupre said the mountain is extremely difficult to get to. The way is barred with narrow valleys and high avalanche danger.
Jeannette is rimmed by a secondary set of mountains.
"It's like a mountain surrounded by other peaks which aren't very high but they are very gnarly and sharp," said Dupre.
The group considered accessing the area by snow machine, but said it wasn't practical.
"There is an old logging road along Ptarmigan Peak, but it is extremely long," said Dupre.
"We decided to take a helicopter in and get dropped off on the lowest aspect we thought we could possibly climb."
They were dropped off at roughly 6000 feet which left 4000 feet to climb.
The party had great praise for pilot Matt Morison who dropped them off in uncertain terrain.
"He was a cool cucumber," said Dupre.
In their first attempt, they tried three separate routes: one of the routes turned out to be a "gnarly ridgewalk" to very difficult face with an overhanging roof. They were only 400 vertical feet from the summit, but they didn't attempt the climb, partly because they were in winter gear. They looked for another route.
"We tried to go up the glacier (but) it was too avalanchy, so then we tried to go up a chute," he said.
It looked good but they ran out of time. A storm was approaching.
On the second attempt they used that chute route to get to the summit successfully.
"What is interesting about Jeanette is that it has two summits and you can't tell which one is higher… so we went to both," said Dupre with a hearty laugh.
Stice joined the party on their second attempt. He said that the temperature was minus 20 when they arrived at the peak at 5pm.
"It was five o'clock, the wind is howling, the day is getting on," said Marceau.
The peak lies 48 km southeast of Valemount in the Rocky Mountains. It is said to be named after the ill-fated USS Jeanette, a boat that got trapped in the arctic sea ice in 1879 and lost most of its crew – 20 men out of 33. But the name of the mountain is in question: it is not listed in the BC Geographical name database.