by Andru McCracken
---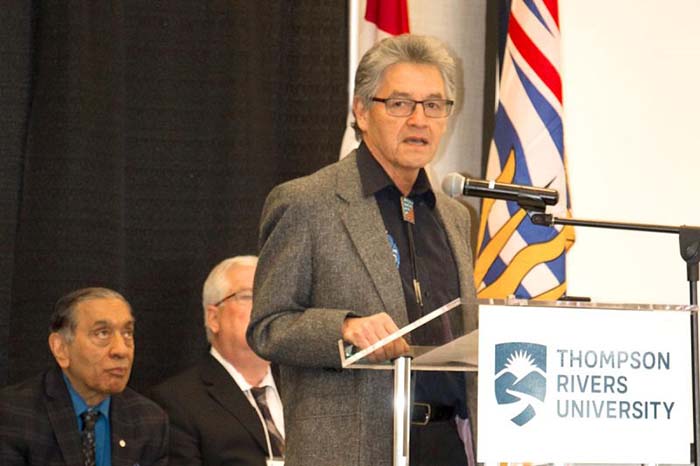 The new chancellor of the Thompson Rivers University was once the administrator of the Kamloops Residential school.
Nathan Matthew, chief of the Simpcw First Nation, will be taking the role over from Wally Oppal, a former judge and BC attorney general. Before that, the position of chancellor was held by former Olympian Nancy Greene, a recipient of the Order of Canada, who is currently serving as a senator. The role of Chancellor is the most prestigious, albeit volunteer role, at a university.
Nathan Matthew grew up at Chu Chua reservation near Barriere where he attended elementary and secondary school. He graduated and went on to get a degree in education and then a master's degree in education.
He's worked as an administrator, a school principal, a First Nations planner, in the mid 1980s he became chief of the Simpcw First Nation.
One of his early jobs was as administrator of the Kamloops Residential School. Matthew said the schools were being phased out by then, the early 70s, but the Simpcw chief of the day asked him to take on the role of administrator.
"I was just in my first job after university in Port Alberni and I got a call from the Chief from home. He said, 'Nathan, you know, the chiefs are working together to try to change the residential school.'"
Matthew was intrigued. His own parents had gone to that school.
"They thought it would be beneficial to have a First Nations person running it. So they had, I guess, looked around and there was Nathan," he said.
"In the early days when my parents went there, [students] worked half a day out in the fields or in the kitchen. They had to support themselves economically. They were hungry all the time. They were abused and they were whipped when they spoke their language," he said.
"They were also forced to go to church every day."
When Matthew arrived at the residential school, the teacher's food was still slightly better than the students'. He put an end to that.
Matthew tried to connect kids with their communities, and worked to connect them with their culture. He also gave students choices in buying clothes, something the teenagers appreciated.
"It was a positive experience for me and from what the kids say, they appreciated it," he said.
During his tenure there the numbers went from 200 students to 120 students, and a few years later the school was closed.
He went on to be an advocate for First Nations students in the public education system.
"Being a chief with an education background, I found myself representing First Nations in First Nations education issues at provincial and national levels," he said.
He helped create the First Nations Schools Association.
"I was especially interested in developing First Nation schools in the province, making sure they were adequately funded," he said.
He has taught a short course for principals of First Nations schools for 20 years at the University of British Columbia.
He was also the chair of the Aboriginal Education Council for School District 73 for 20 years.
He ran a mill, was a part owner of a rustic fly-fishing camp, negotiated forestry licenses and developments including Valemount Glacier Destinations on behalf of his band.
"I can't believe it," said Nathan Matthew, of his appointment.
Matthew is now 69 years old, and has been married for 48 years. He was delighted with the appointment and also reflective.
"I've lived a very privileged life, you know, being associated with so many really good people. That's what I keep thinking about: there's some of me in there, but there are so many people along the way that have been very supportive of me," he said.
Matthew said he hasn't actually seen the job description yet.
"I'm sort of wondering what it's going to be like, because I didn't apply for it. I didn't see a job description," he said with a laugh.