by Andru McCracken
---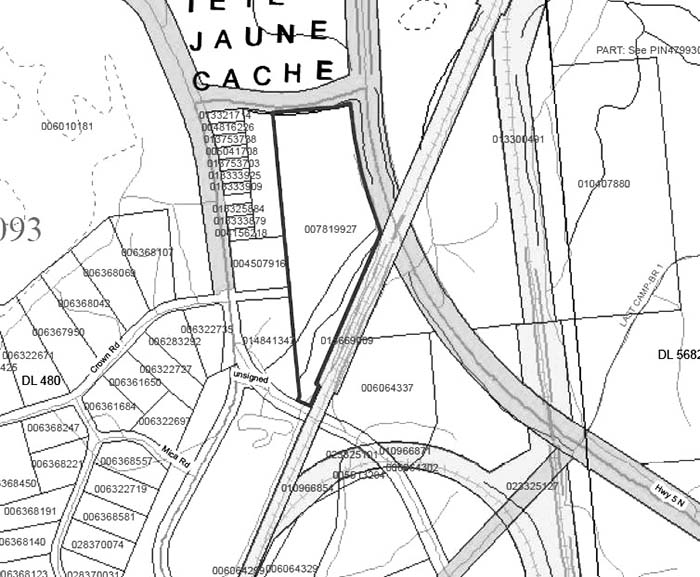 The Simpcw First Nation is in the process of creating a reserve in Tete Jaune Cache. According to William Olscamp, Media Relations for Indigenous Services Canada (ISC), they are in the first phase of the process.
Olscamp said the Simpcw have submitted an 'Addition to Reserve' application. The next steps required are a letter of support from his agency, the development of a joint work plan by the Simpcw and ISC officials, and then an Order-in-Council.
In a brief interview, Simpcw Chief Shelly Loring confirmed the Simpcw First Nation is working to create a reserve in Tete Jaune.
Former chief Nathan Matthew gave background on the proposed reserve.
"Having a chunk of reserve land there is largely symbolic," Matthew told the Goat. "At this point we are making sure there is recognition that we have land there in our territory."
He said the Province is transferring new provincial Crown lands to them because of a resolution regarding a road right-of-way on their Chu Chua Reservation near Barriere, BC. Previously, the only legal right of way was an 18-foot wagon road established in the 1800s, said Matthew.
He said that in order to establish a proper easement, the Province needs to take up land on either side of the right of way and as a result has to compensate the Simpcw with Crown land.
Danielle Pope, a spokesperson from the Ministry of Transportation and Infrastructure, said they have been negotiating with the Simpcw First Nation to transfer control of the Dunn Lake Road to the Province.
"As part of this process, the federal government requires no net land loss to Simpcw's reserve, thus replacement lands are required," said Pope.
Matthew said they considered land throughout their traditional territory ranging from Kamloops to Jasper and decided upon land in Tete Jaune Cache, which is located some 20km north of Valemount.
Matthew said having land will help reinforce their right to make decisions regarding Crown land use.
"Part of that recognition is revenue sharing going forward," he said.
"It's a new world out there and a lot people haven't been following the latest developments."
Matthew asked that people get informed and resist the temptation to fall prey to fear of a First Nation's backlash.
"It is so much easier to fall back on the old fears that First Nations will treat the non-First Nations in the way we have been treated in the past (as in), 'Watch out. If you give them a little bit of power they will whack you in the back of the head, or you are going to lose all your land or we are going to take over.' We are a long ways from that, truly."
Matthew said there is a lot that can be done in terms of reconciliation on both sides.
"We have a very specific right to the land and resources that is unique. It is almost required that we exercise that right or we lose it."
Matthew said they would continue to engage in a respectful way with the community and help develop the economy.
"If we could be a positive force in the development of any kind of economic development in the area that was environmentally responsible, wouldn't that be great? We could support the communities and the people there and securing a positive comfortable future for them and their kids."
Matthew said the Valemount area faces similar struggles to Chu Chua.
"We need young people that have jobs to hang around and maintain a lifestyle that is positive and healthy," said Matthew. "Even if our kids move to Kamloops, it is a loss to the (Chu Chua) community."
He said that is why they supported the Valemount Glacier Destinations Resort.
"We did our part; we supported it, talked to the politicians. We got it to the point where all we needed was the investor. That is where we are."
"We have limited means, but we are very supportive of having some kind of development in the Robson Valley to maintain and sustain the people who are there and ourselves. That is what we find when we talk about reconciling the past, that is the way forward. For anyone to think we're a negative force, I'd like to have a chat with them about where they are coming from."
Matthew acknowledged that there sore spots between indigenous communities and Canadians.
"But generally speaking we need to find our way together. Nobody is leaving," said Matthew. "To have a Simpcw reservation up at Tete Jaune, I think that can only be a positive thing if people are willing to recognize our right to be there and to participate."
The Canoe-Robson Valley representative to the Regional District, Dannielle Alan was unaware of the proposal until she was contacted by the Rocky Mountain Goat.
"This is the first reserve we have in Area H as far as I understand," she said.
"My general feeling is I am in support of the Truth and Reconciliation process, not just the letter of it, but the spirit of it," she said. "Any opportunity we have to solidify positive relationships with the traditional territory we share."
Alan said that she'd like to sit down with the Simpcw to better understand what is planned there.
"Would there be a settlement here?" wondered Alan. "What do they want out of these reserve lands? Why did they choose here rather than a place that is contiguous in the Dunn Lake area?"
Alan was quick to point out though it could be advantageous for both the Simpcw and local people.
"With every challenge comes opportunity. As another community, nation, level of government they have resources we don't necessarily have… it could be a benefit."
Ailie Beaudry-Frew's property is close to the proposed reserve.
When she first took a look at high-level maps she was worried about potential conflict, especially where she and her neighbours use Crown Land behind their properties. She also wondered about access to the property and the potential impact to the view and property values. But later, looking at a map with satellite imagery, she got a better idea of the distance between existing properties and the potential reserve.
"I don't see that it's a problem," she said.
Beaudry-Frew studied anthropology and archeology in university and pursued a minor in history at the University of Alberta. She's long been interested in the history of First Nations in the area and especially a graveyard that was built over when the highway was initially built.
"They paved over that in 1953," she said.
Beaudry-Frew supports and celebrates the designation as a reserve.
"I think it's awesome. I am totally behind that," she said.
Last spring the Goat reported that the Province had transferred 185 hectares of Crown land to the Simpcw First Nation, parcels in Tete Jaune Cache and close to Valemount. The transfer was part of an accomodation for the Valemount Glacier Destinations resort approval. The land parcels included a historical village site on the banks of the Fraser River, as well as hunting and fishing camps. Those parcels are owned fee-simple and do not constitute a reserve.