by Andru McCracken
---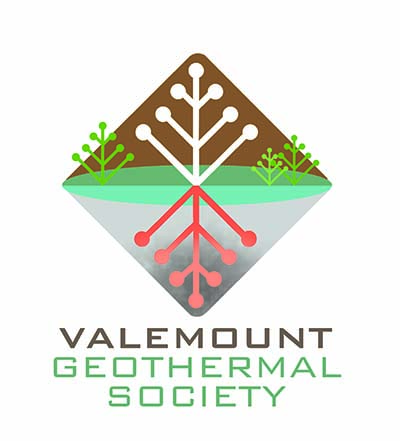 The Valemount Geothermal Society has a new logo, a new energy-saving fundraiser, and thanks to a world renowned Vancouver-based hot spring developer, they have a clearer vision of a potential hot pool development on Kinbasket Lake.
Korie Marshall, President of the Valemount Geothermal Society, said Mike Sato is a world renowned hot pool developer.
"He came to town for a couple days and had some meetings with us and did some site tours," said Marshall. "Our members and the public got to talk to him."
She said his visit is helping the Valemount Geothermal Society come up with their next steps.
The society has been working with Calgary-based Geothermal Power developers, Borealis GeoPower, and the goal is to establish a community-run hot pool near the Griffin Sawmill campsite on Kinbasket Lake or at another drill site being examined by the company.
In order to be prepared to take advantage of the opportunity and to negotiate a workable deal with the Borealis GeoPower, the society hired Mike Sato of Sea to Sky Onsen Inc.
There will be uncertainty about the geothermal resource until it's drilled and confirmed, said Sato, but he is excited about aspects of the site, like access.
"The location is also ideal," he says in his two page report. "Realistically it should be capable of year-round tourism. It could become a very popular hot spring site that combines rustic elegance with majestic scenery in a tranquil, secluded setting."
Until drilling is done, water quality, flow rate and temperature just aren't known, Sato said all of these are required to design a pool. Because there is no electricity on site, the geothermal well must have a substantial artesian flow. That means the hot water must be under enough pressure to make its way to the surface on its own.
Further, Sato said Health Authorities typically don't allow non-natural hot spring pools to be built.
"The reality of getting provincial approval to create a natural-looking unchlorinated hot spring pool is difficult under the current British Columbia pool regulations, and will be the case here," writes Sato.
Despite the uncertainty of the geothermal spring resource, and the problem with current regulations, Marshall said the society is moving forward.
In order to raise funds for the society, the committee has acquired a thermal imager, purchased to help locate geothermal hot spots on the lake. But the thermal imaging unit can also help find air gaps and heat losses around the exterior of homes. The unit is available for rent to the general public.
"It's a handheld unit that you can walk around your house and look for spots where you might be losing heat that you are surprised about," she said.
The unit can be rented for $20 for members and $40 for non-members, with an extra $20 if you want someone to help you with it.
The society also ran a contest to find a new logo over Christmas and the winner was Alison Kubbos.
"We're really excited," said Marshall, "It's very beautiful."
Editor's Disclosure: Andru McCracken is vice president of the Geothermal Society.