by Laura Keil
---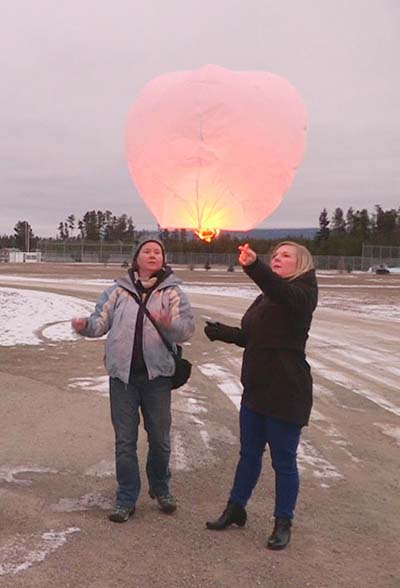 On Dec. 6th the Robson Valley Support Society (RVSS) held a vigil to remember the 14 young women who were murdered at L'Ecole Polytechnique in Montreal on Dec. 6th 1989 by a man motivated by his hate for women and feminists.
RVSS employee Penny Rivard read a brief introduction to the National Day of Remembrance and Action on Violence Against Women, the 1989 shooting and then spoke about current issues facing women.
"It is a day to reflect that more than 70 per cent of the victims of domestic homicide are women. That domestic violence continues to be a brutal reality for nearly 300 women and their children who flee a violent household every day in Canada. Thousands of other women do not report their physical or psychological abuse, whether that be inside or outside the home."
She called to action those present to help eliminate domestic violence and violence against women.
"Take action and refuse to accept this in our society," she said.
Those gathered then set alight paper lanterns which floated up into the sky.