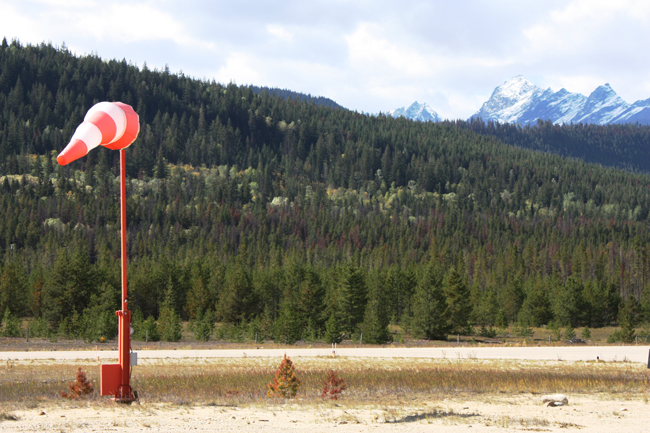 By LAURA KEIL
Valemount Council is devising a way to nearly double the existing airport runway in order to accommodate aircraft as large as Boeing 737s – a plan that will require Valemount Glacier Destinations (VGD) proposed year-round ski & sightsee development to relocate its principal access road.
In a report to Council, Administrative Assistant / Planner 1 Megan Vincente says a Boeing 737 would require a runway length of approx. 1,800m while the existing airport runway is only 1,200m. It's not mentioned in the Council report whether other requirements are needed for commercial aircraft.
The current length of the Valemount Airport runway permits only Citations, Beech Craft 1900's and Twin Otters to land, according to a Council report, all of which are smaller planes.
If the runway is expanded as suggested, the access road would have to relocate at least 1 km further north, Vincente's report says.
VGD's Tommaso Oberti told the Goat on Tuesday that VGD supports the runway expansion and is planning to re-route the road further north, also on Crown land.
He said the airport may be important for resort property owners who own their own planes, though he notes Boeing 737 traffic would be "unlikely."
"If you look at places like Jackson Hole and Aspen, there are very well-to-do people with Gulf Streams and planes like that that we hope would buy a bunch of property. They do fly in."
He says it's not a "make it or break it thing" for the resort.
"We're talking maybe 1% of visitors, if that. But in the long-term it really is helpful to the project."
Greg Marchant has said on the record that VGD would contribute something to the runway expansion, Oberti said.
Vincente's report to Council does not mention a cost associated with the lengthened runway.
Council agreed to send a letter to the Regional District (where the runway is located) to ask for their support to expand the airport and to support relocating the proposed resort access road. The Village must apply to higher levels of government before it can expand.
The Background
According to a report written in February by then-CAO Gord Simmons, the upgrades and expansion are "based on the interest shown by local pilots and the expected increase in use from the Valemount Glacier Destinations Resort."
In May, the Village's Economic Development Committee recommended the formation of an airport commission, hiring an airport manager, and for the Village to inform the Province of the need to secure land for a potential extension. Council decided to hold off on hiring an airport manager and creating a commission, but in September, the Village held a Valemount Airport Proposed Expansion working group meeting. The meeting was "to involve all impacted stakeholders, confirm their support of this project, and determine next steps," Vincente's report says.
Simmons said in a report to Council that based on two studies the Village commissioned in 1990 and 2006, the Village's plan is to work toward a classification of a Code 3C non-precision instrument runway — non-precision instrument meaning the aircraft must break out of the cloud at least 250 feet above the airport before final approach.
Current Village CAO Adam Davey advised Council last spring there is no timeline attached to the recommendations, but it's something Council should be thinking about.
"We're already doing some line painting and tree clearing this summer," Davey said.
The airport is currently managed by the Village's Public Works.
Valemount Mayor Jeannette Townsend said Valemount needs to work with provincial ministries to acquire more land for the runway extension, as the first step.
The airport is currently 23 metres wide by 1,200 metres long, and the runway strip is partially fenced, according to
the report, and there is a small terminal building, runway lighting, and a small fuel facility, too.
In order for the Airport to change classifications, the Village would have to enlarge the runway to 1,800 metres by 30 metres – close to doubling the existing runway size.