November 19-25
---
On November 21 at approximately 6:00PM the Valemount RCMP received a report of a serious motor vehicle collision between two tractor trailer units on Highway 16 near Yellowhead Lake. Initial reports received indicated a possible fire, and dangerous chemicals at the scene. Jasper RCMP were the first to arrive on scene and confirmed the 58 year old male driver, and sole occupant of the west bound tractor trailer unit was deceased. Further investigation revealed no fire occurred and no dangerous chemicals were present. The male driver of the other tractor trailer was transported to Jasper for treatment. Highway 16 was closed in both directions until late morning the following day.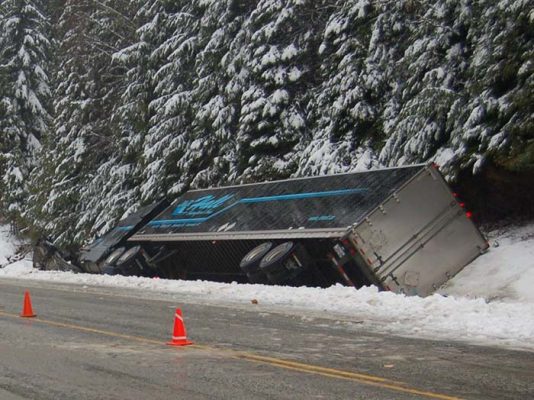 On November 22 at approximately 11:44AM the Valemount RCMP responded to a report of another head-on collision between a northbound Hyundai Elantra and southbound tractor trailer unit on Highway 5 south. Upon police arrival it was confirmed the 30 year old male driver, and sole occupant of the Hyundai Elantra was deceased. Investigation revealed the Hyundai Elantra lost control on slushy road conditions, and subsequently crossed the center lane into the path of the oncoming southbound tractor trailer unit that was unable to avoid a collision. Highway 5 was closed temporarily in both directions and later opened to alternating traffic.
On November 23 at approximately 3:30PM the Valemount RCMP received a report of a tractor trailer rollover collision on Highway 5 near the Blackman Road intersection. Emergency services were on scene quickly, and discovered a southbound tractor trailer on its side in the southbound ditch, and a 39 year old male driver unconscious who had to be extracted from the vehicle with assistance from the Valemount Fire Department. The male driver and sole occupant was taken to the Valemount Health Centre and later transported to Prince George for further care. The male driver succumbed to his injuries and died the following day.
The Valemount RCMP continue to investigate all three of these serious incidents, and remind motorists to reduce speed, and recognize changing road conditions to prevent future collisions.
Cpl. Jason Nash
Valemount RCMP