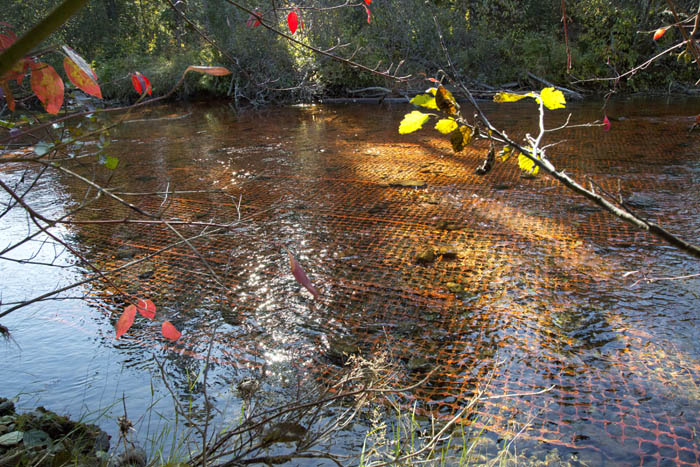 by Andru McCracken
Trans Mountain has dropped their request to install more spawning deterrent mats in creeks around the province and has promised to remove them when they can do so without jeopardizing fish spawning.
This summer, the company installed orange snow fencing on some creekbeds to prevent fish from laying eggs in areas that could be disturbed by future pipeline construction – including at the bottom of Swift Creek and in six other streams between Valemount and Blue River. While the company aimed to minimize disturbance to spawning fish, the National Energy Board (NEB) said it did not have the NEB's permission to install the mats, an activity considered "construction" not "pre-construction."
The NEB has said it will hold Trans Mountain accountable for its performance during the construction and operation of the Trans Mountain Expansion Project.
Trans Mountain requested 'relief' after installing the snow fence and permission to carry out the procedure in more creeks.
The National Energy Board did not grant Trans Mountain's request and the NEB's compliance and enforcement staff gave the company a notice of non-compliance.
Because removing the snow fence while fish spawn could cause greater harm the board has asked Trans Mountain to do it after spawning is finished.
The National Energy Board said they would be paying close attention and were willing to enforce compliance if required.
"Public safety and the protection of the environment is of paramount importance to the NEB," said Sheri Young, Secretary of the National Energy Board in a press release. "The Board reminds Trans Mountain of its commitment to work with government authorities to determine which permits, approvals and authorizations are necessary prior to commencing construction activities."
A statement from Trans Mountain said that they were committed to building the Expansion Project in a way that minimizes impacts to the environment.
In a statement to the Rocky Mountain Goat Newspaper, Trans Mountain said they have withdrawn their request to install more "mitigative measures" for the protection of fish this fall.
"We have determined that the window for them to be effectively installed has passed. We will be re-assessing these specific water-crossings and determining if we need to adjust our construction methodologies to meet our commitments to minimize environmental impacts," the company said in a statement.