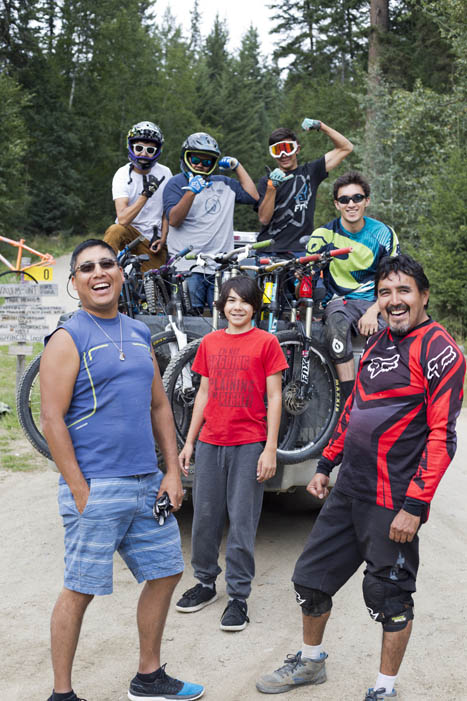 by Andru McCracken
Councillors Jules Phillip and Tom Eustache of the Simpcw First Nation decided to thank their youth workers by taking them to the Valemount Bike Park.
Phillip, who is the youth worker for the Simpcw, said that it was youth leaders' Richie and Darrell's last day of work.
The youth group does all manner of activities from canoeing, hunting, berry picking, powwows and snowboarding; now biking is starting to take off, said Phillip.
"It's important that we get our youth out on our territory and do some healthy activities," said Eustache.
The Simpcw First Nation lent their political support for the Valemount Bike Park Master Trail Plan went it was undergoing approval. Having two councillors enjoying the trails may bode well for future collaborations.
At any rate, Eustache loves the trails.
"They were awesome. They have done such an awesome job," he said. ""It was perfect timing too because there was rain."
Eustache said his favourite trail was Moby Dick.
"I didn't do any of the big drops, I hit the step ups and stuff," he said.
Eustache wasn't able to ride High Roller, because not all the kids were ready for it.
He said he's been working hard to get the kids in the habit of healthy outdoor physical activities.
The sport is growing on the reserve. He said his youth group has 12 young riders between the ages of 7 to 13.
"I have shuttled them up our trail (in Chu Chua, 15 minutes north of Barriere) and they just love it."
Phillip said that the kids get a great sense of accomplishment and the benefit of being exposed to another sport. They hope to build similar trails in Chu Chua.