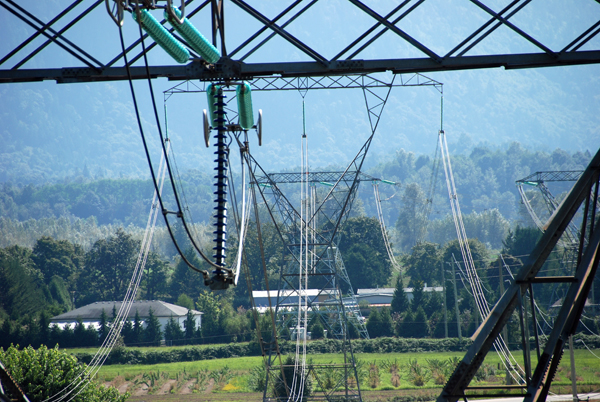 by EVAN MATTHEWS
A planned power by B.C. Hydro outage didn't happen last week, and as a result left Valemount's business community reeling from financial losses.
Mary Anne Coules, spokesperson for B.C. Hydro, says the transmission line structure near Blue River needed emergency repairs on Wednesday Jul. 26 late in the afternoon. The line needed repairs in order to prevent an extended "forced outage" to customers in the North Thompson Valley.
In the hours leading up to the repairs, Hydro used an "auto-dialer" to contact some 4,600 residents and businesses in the valley with a message: there would be no power in Valemount on Wednesday Jul. 26 between 5:30 and 10:30 PM.
"We originally anticipated the emergency planned outage would affect all of our customers in Valemount, Blue River and the surrounding region, and issued an auto-dialer to advise customers of the outage," says Coules.
Because the emergency happened late in the afternoon, the work couldn't be completed during a regular workday as some locals had suggested.
But the planned outage never happened.
The Independent Power Project (IPP) for Valemount and area kicked in seamlessly, but B.C. Hydro didn't call its customers again to inform them.
Business carried on as usual. Well, not quite.
Most businesses — and many restaurants — including Lucky Panda, Tempo, The Loose Moose and the Caribou Grill, all shut down between 5:30 and 10:30 PM, some of their busiest hours. These were just some of the businesses affected.
"We started shutting things down around 5:15 PM and got ready for a substantial outage," says Patricia Thoni, co-owner of the Caribou Grill.
"We lost out on a 200-person night, never mind all the prep and lost product. The staff loses out too, and people couldn't even stop to eat… It's horrible," she says.
The Chalet Continental Hotel had multiple customers decide to carry on with their travels due to the misunderstanding.
One business told The Goat they lost an estimated $8,000 in revenue from that night.
The Summit Grill, located at the Best Western and which remained open, had a wait time of 1.5 hours long.
"Why did they not give a second message? Why did they not say there was 'potential' for an outage in their first message? Why throw us for a loop?" asks Thoni.
But since the outage, B.C. Hydro has not returned any business' complaints, according to several owners.
And instead of issuing an apology, B.C. Hydro assured customers it's provided them a valuable service.
"Our crews were able minimize the impact of the outage by providing backup power to our customers in Valemount through the diesel generator in McBride, as well as local IPPs," says Coules.
"This reduced the number of customers impacted from 4,611 to only 268 customers in Blue River," she says.