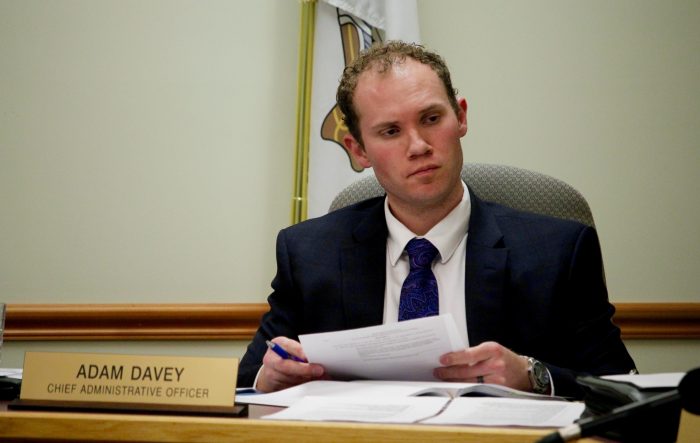 by LAURA KEIL
Village of Valemount CAO Adam Davey has passed his probationary period and the Village has offered him a permanent contract – for both Chief Administrative Officer (CAO) and Corporate Officer (CO) positions.
Davey was hired in February following interim CAO Gord Simmons who had filled in after the departure of Mark Macneill the previous summer. The current Council has rotated through numerous CAOs since taking office and been without a CO since last summer.
Village Mayor Jeannette Townsend says the rationale for combining the CAO and CO positions is a significant saving to the taxpayers and combining the two is not uncommon in small municipalities. She says the pay for the Corporate Officer position alone is in the mid 70k range.
Townsend says Davey is an excellent CAO and she is pleased with his diligence and professional leadership.
"Adam Davey is a role model for integrity," she told the Goat. "The staff are all happy. Council and I are as well."
Davey holds a Masters of Public Administration degree from the Royal Military College of Canada and a BA in Political Science from UNBC.
A veteran of Afghanistan, Mr. Davey has continued to serve as an Army Primary Reserve officer with the Seaforth Highlanders of Canada, according to a Village press release when he was hired..
Davey says he is happy to accept the permanent contract.
"I am grateful for the continued opportunity to serve Valemount into the future as the village progresses on an exciting development path," he told the Goat this week.
He says his wife and two boys have relocated back to Prince George from Vancouver and the long-term plan is for them to join him in Valemount.