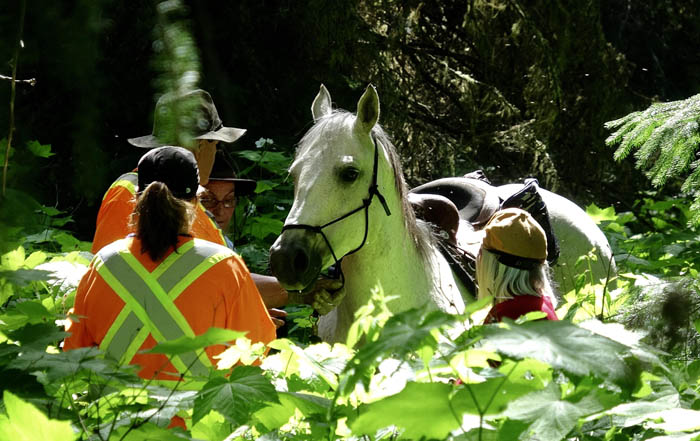 by EVAN MATTHEWS
After seven days and a search involving upwards of 100 volunteers, a McBride woman has been reunited with her beloved white mare.
Dawn Hickerty has owned horses for the majority of her life, but got away from the hobby years ago. She decided to get back into trail riding within the last few years, she says, something she does simply for pleasure.
Hickerty owns two horses — Chester and Dancer — with 15-year-old Dancer, a Quarter Horse, being her most recent pick up.
On Sunday night, Jun. 18, Hickerty was riding Dancer on a trail west of the Holmes River — referred to by many locals as the Beaver River — and trekked up near Beaver Falls. Ultimately, Hickerty and her group ended up on what she calls "the little pit falls road," which is an old logging road in the area.
The group had a packhorse with them — a horse to carry loads — and it was carrying a power saw, as the group was unsure of what condition the trail would be in, or if they would have to cut any fallen trees.
Though the trail was mostly fine, Hickerty says the packhorse was "spooked" by the trail and started "freaking out."
After the spooked packhorse plowed through Hickerty's group — harming nobody, thankfully — a startled Dancer took off running down the mountain.
"I still had one foot in the stirrup (attached to Dancer), so I was concentrating on getting out… That would've been another wreck all together," says Hickerty.
"The packhorse came plowing through us, so I had to let (Dancer) go," she says.
Hickerty describes seeing Dancer's back end getting smaller and smaller, as she disappeared into the woods.
The group still had to retrieve the packhorse before they could pursue Dancer, Hickerty says.
Eventually, Hickerty says her group began following Dancer's last known path, with one man on horseback, and Hickerty and another friend on foot. The two on foot were picking up Hickerty's items that had been thrown from the saddlebags as Dancer fled, she says.
Admittedly, Hickerty says she wasn't rushing the search in the moment nor tracking as effectively as she could have. Mostly, because she expected the horse to try and get home versus disappearing to such an extent, she says.
Though her group searched for Dancer through the night with headlamps and spotlights, Hickerty says darkness enveloped the valley and the search ended for the night.
"I still had one foot in the stirrup, so I was concentrating on getting out… That would've been another wreck all together," — Dawn Hickerty
Horses can typically last three or four days without food or water, according to Hickerty, but her main concern was Dancer's attached saddlebags and bridle being caught up in the woods, meaning the horse would not be able to eat or drink.
"If she got caught up without food or water, she's in trouble by seven days later," she says.
With a quick post on Facebook, the small search group quickly transitioned to a community effort, something Hickerty says she's thankful for.
Upwards of 100 volunteers had scoured the bush for days, many on foot, but aided by people on quads, horses, one jet boat, and overhead via (three) drones, a helicopter, an airplane, and even a paraglider at one point.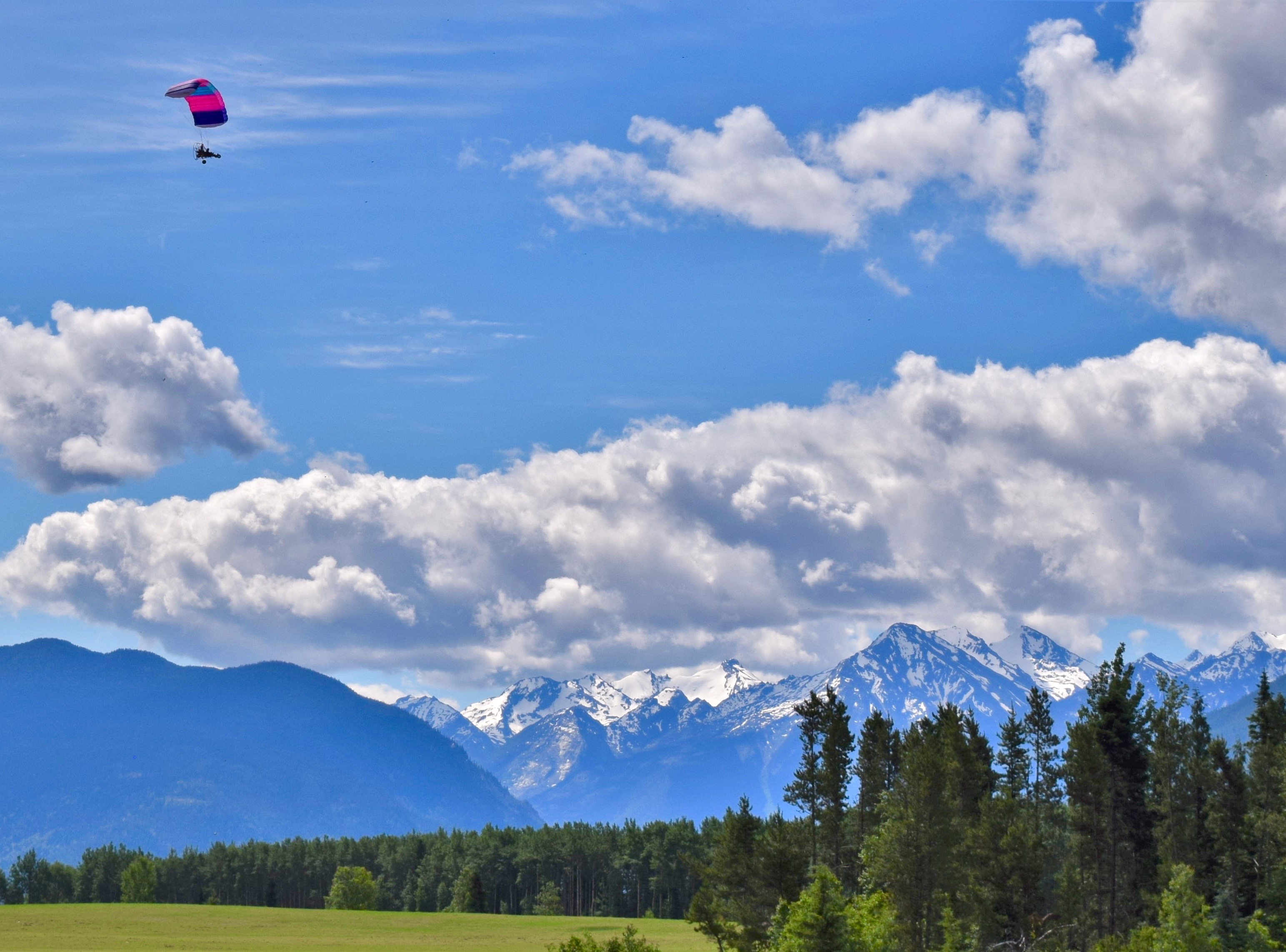 "The perseverance and love of my friends, family, and community members was overwhelming," says Hickerty. "I'm so thankful to everyone."
However, despite all the help, there was no trace of Dancer, Hickerty says. Even with experienced trackers looking, Hickerty says there were no tracks or droppings; literally nothing to track Dancer by.
"It honestly felt like somebody has just picked her up," she says.
After six full days of searching, on the morning of Tuesday Jun. 26, Hickerty says she witnessed a volunteer group surveying the ditch across the highway from where she had initially been trail riding. Hickerty's uncle, Mike Monroe, was leading this specific volunteer group.
Monroe told Hickerty he had seen horse droppings in the area. Hickerty had seen the same droppings, she says, but assumed the droppings came from the horses being used by volunteers.
"But he told me he could smell a horse," says Hickerty, laughing.
"These old ranch guys from way back, they can do stuff like that. It's actually really cool," she says.
The volunteer group, along with Hickerty, scoured the area.
"About 15 minutes later a friend phoned me, and she said, 'Dawn, we found her. She's alive,'" says Hickerty, choking back tears of joy.
"I don't know how to even begin to thank people for the support I was given," says Hickerty. "It's unbelievable."
In addition to Dancer being perfectly fine and unharmed, the horse had many of Hickerty's items still in her possession.
To really bring home a happy ending, Dancer even had a few Twisted Teas left in her saddlebag.
"We definitely celebrated with those."