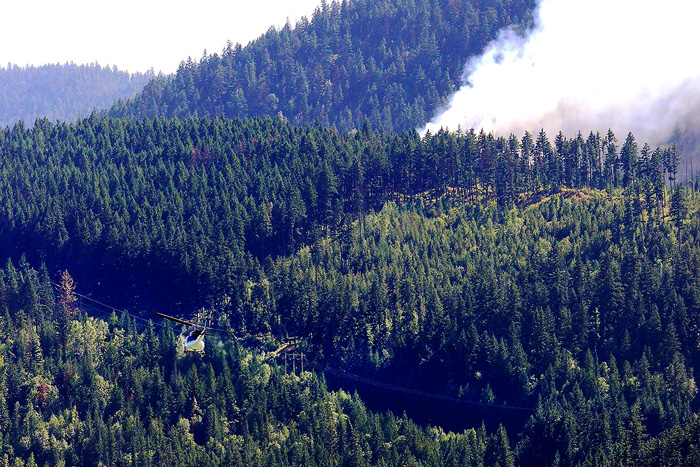 by Goat Staff (with files from Clearwater Times)
A tongue of the Thuya Lake fire southwest of Little Fort worked its way downhill Friday afternoon, getting perilously close to the only transmission line that services the upper North Thompson Valley and Robson Valleys.
The Thuya Lake fire, approx 5 square kilometres, has forced an evacuation of the Little Fort area but has reportedly not affected any buildings so far.
During the wildfires of 2003 the powerline was damaged south of Barriere, leaving the Robson Valley without power for a week.
BC Hydro spokesperson Mary-Ann Coules says BC Hydro is monitoring the fire situation and said Thursday, a day prior to this photo being taken, that there was no immediate risk to this line.
"We are aware of the wildfire near the transmission line that serves our customers in the North Thompson Valley."
"As precautionary measures, we are establishing fire guards around the transmission poles closest to the wildfire and reviewing all available contingency options for our customers in Valemount should the situation change.
She says contingency plans include building fire guards to protect the transmission line in the area closest to the active fires and preparing manpower and resource plans to ensure power is restored as quickly as possible in the event that the line is affected by the wildfire.
She says if the line were damaged, depending on the severity and projected outage period, BC Hydro would look to provide back-up power to Robson Valley customers through the diesel plant in McBride and the Hystad Creek IPP. She says they have successfully used these options in the past.