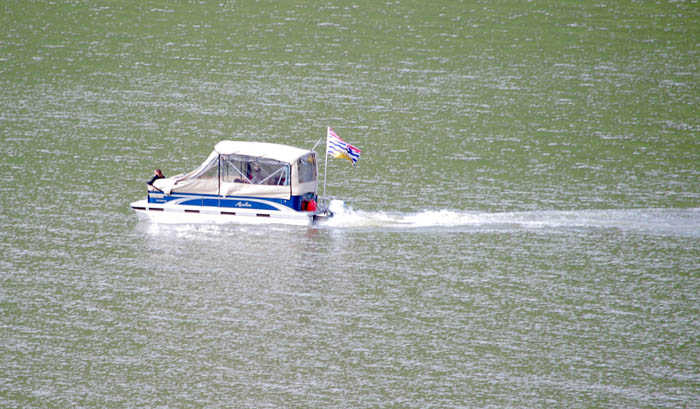 by EVAN MATTHEWS
Another business has opened up in Valemount, and its already off-shore and cruising.
Ahh-Sum Pontoon, owned and operated by Marc Lohse and Kerri Lynne Fontaine, is operational and accepting bookings for tours and boat cruises of Kinbasket Lake.
"There is no other boat rental or tour business on Kinbasket," says Lohse.
"Our market research consisted of just being down here and having enough people constantly asking us to take them out on the lake," Fontaine adds.
However, people don't necessarily need to take a tour in order to capitalize on the new service, the pair says, as they're offering water taxi or fishing boat services too, among other activities.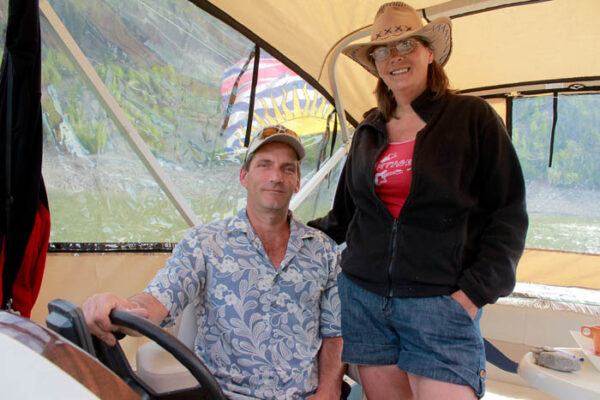 If people have a specific idea in mind as to how they want to spend an afternoon, the couple says the business is willing to accommodate whatever it is people are looking for.
"The experience like a 'choose your own adventure' book," says Lohse.
"If you like mountain biking we'll put your bikes in the back of the boat and take you from the marina and drop you off on either side of Kinbasket.
"If you want to beach hop all day, we can take you to all of the different beaches we enjoy. If you like backcountry hiking, we can take you anywhere on the reservoir," he says.
If people have more practical uses in the backcountry such as work, Lohse says taking the pontoon boat could potentially be the most logical way of getting out there, depending on the situation.
"It's called Ahh-Sum Pontoon because every person who has stepped off this boat has immediately said, 'This was awesome,'" — Kerri-Lynn Fontaine, co-owner of AHH-SUM Pontoons
The main goal of the business, according to the couple, is to make the area more accessible regardless of a person's purpose in the backcountry or their socioeconomic status.
"We want people to be able to experience things here that may be unaffordable in other places," says Fontaine, pointing to a recent trip to Vancouver in which the couple was flabbergasted by the pricing of guided boat tours.
"We've set our prices to make it affordable for the everyday person," she says.
Arriving in Valemount 14 years ago, Lohse and Fontaine have always spent time at the marina, even spending five years as the caretakers of the facility and campgrounds, they say.
People always used to call the marina asking about boat tours or renting boats, to which the couple always had steer people away, they say.
Arriving at the idea to start the pontoon business came pretty easy with their knowledge of customer demand, according to the couple, but the circumstance that pushed them to make the decision was far less easy to deal with, they say.
While working in a labour-type job, an accident injuring his shoulder left Lohse unable to work physically demanding jobs, he says.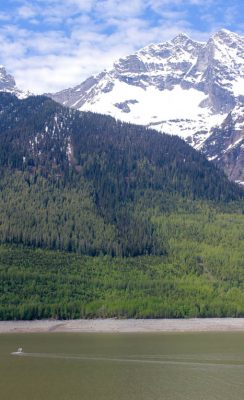 As Lohse struggled to cope with the fact his life was never going to be the same, doctors advised him to find a less physically demanding profession.
"I was like, 'What do I do?' I wasn't willing to go stand at Wal-Mart to be a greeter," says Lohse, adding while there is nothing wrong with being a greeter, it's just not who he is.
Which is when the couple decided to draw on their past knowledge of the marina.
"The idea for a boat rental place… or a business along those lines came up," he says.
Having always loved boats and knowing the demand for access to Kinbasket Lake, the couple started up shop.
"It's called Ahh-Sum Pontoon because every person who has stepped off this boat has immediately said, 'This was awesome,'" says Fontaine.
Ahh-Sum Pontoon has been instructed by the Valemount Marina Association not to impede day-to-day operations of the association, according to the pair, which means the couple will be anchored just off-shore from the marina.
Thus, customers are to call or text the couple at 250-684-9059 or 250-684-9060 to arrange pick-ups, with radio likely to be used for correspondence once users are the backcountry.
Rates depend on the timeframe people spend out on the pontoon, and the activities being done in the backcountry, but a one-hour cruises goes for roughly $35.