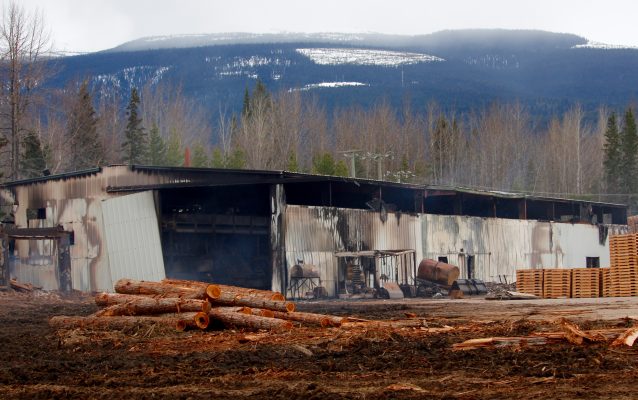 This story was most recently updated the morning of Saturday, Apr. 9. — EM
by EVAN MATTHEWS
McBride is reeling after much of the BKB Cedar Mill was incinerated Apr. 5. Though nobody was injured in the blaze, 35 people — roughly five per cent of McBride's population — are left without jobs.
The fire started at roughly 5:30 AM at the mill which is located just west of the village off Museum Road.
"As far as the operational side of things, the mill is gone," says Owner and President Raj Basran, who expressed relief no one was injured.
"There are no machines left and there is no power. The (only) option right now is to re-build altogether," he says, adding, "if there is any way we can re-build that's ultimately the end goal."
The cause of the fire had not been determined as of Tuesday morning. Fire crews had extinguished most of the fire, but were still monitoring a large mulch/sawdust pile at the site that continued to burn.
Fire departments from McBride, Valemount, Mackenzie and Prince George have been on-scene, but there were also crews from B.C. Wildfire Branch, along with the Beaverly, Red Rock, Ferndale, Salmon Valley and Pilot Mountain fire departments, according to the regional district.
Robson Valley Search and Rescue crews also attended and are being credited for their efforts to save the adjacent property owned by Andrew Gibbs. However, member of the Robson Valley SAR and son of Andrew Gibbs, Chris Gibbs, says the Robson Valley SAR was not there in any official capacity, rather as good Samaritans to protect the Gibbs' property.
The Regional District of Fraser-Fort George spokesperson Renee McCloskey released a statement on Apr. 7 saying, "The fire is not posing a risk to neighbouring properties or forested areas."
The District has provided updates every morning since, consistently saying "crews will continue working on bringing down a nearby mulch pile and continue fire suppression works on the pile. Protection works have been applied to keep the fire from spreading to neighboring properties and crews continue to monitor closely."
Investigation into the cause of the fire is ongoing.
"It's been this all-encompassing group that has really been focused on our community and moving the employees of this tragedy as quickly and as easily as possible. That includes Raj and Sheila," – McBride Mayor Loranne Martin
The Regional District is asking the public to avoid the area, as the fire is still under investigation and the scene is not safe for public access.
The main priority right now, according to Basran, is to make sure his employees are taken care of in terms of Employment Insurance applications, while Basran takes care of the bureaucracy involved with insurance companies and the Office of the Fire Commissioner.
The company has also been directed by WorkSafeBC to have the remaining structure inspected and certified as safe prior to having any workers on site.
WorkSafeBC spokesperson Scott McCloy says the mill has been inspected regularly by WorkSafeBC officer, with the last inspection in September 2016.
Basran also owns logging operations, which used to supply BKB Cedar Mill with logs, he says.
"We are currently at a standstill, until we assess the damage of the fire," says Basran. "At this time there is no market."
When BKB Cedar opened in 2013, Basran told his employees it's up to them — produce a good quality product that meets their orders and employees will keep their jobs, which provided much optimism to a Village desperate for jobs.
Basran expressed thanks to the many different community members for showing so many different examples of support: the first responders fighting the fire, the people who helped move existing inventory away from the fire, the municipal, regional, provincial and federal governments, and even locals who have been preparing food for those on-scene.
"It was very sad to hear that this mill, with long term employment and ongoing contracts in place, was destroyed by fire," says Member of Parliament for Prince George-Peace River Bob Zimmer, who noted he's offered the support of his office in assisting with claims.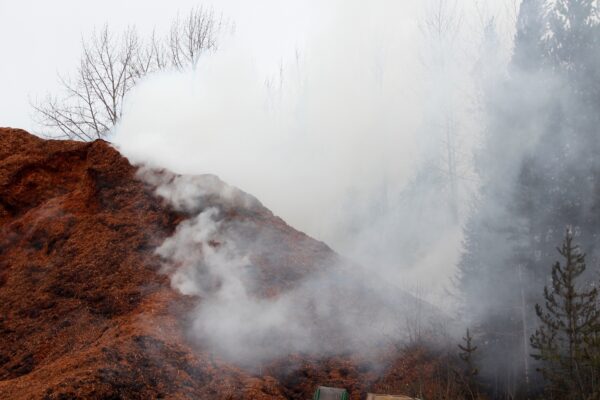 "This is a massive hit McBride has taken… there are many families needing assistance.
"When something like this happens it's encouraging to see people like Chris and Kelli Parker step up and provide food and support as well as Peter Doukakis with the Robson Valley Support Society providing community assistance," says Zimmer.
The silver lining, if any, is how the community has once again displayed it can band together in times of tragedy, according to Mayor Loranne Martin, who mentioned MLA Shirley Bond and Regional District Director Dannielle Alan have both been on-site.
"It's just absolutely devastating," says Martin, noting municipal, regional, provincial and federal government representatives have met with the Robson Valley Support Society (RVSS) and Basran to develop a strategy to help the mill's employees.
"We want to keep these people in Valley, while we re-coup and re-build," says Martin. "We don't want to lose more people."
On Friday Apr. 7, The Provincial government announced a $50,000 grant to McBride via the Rural Dividend Fund under a Special Circumstance Provision. The funds are to be used "to support economic diversification and to increase community resiliency in the face of the recent fire at the BKB Cedar Mill."
Even Red Cross has offered assistance, according to Mayor Martin, and the local Scotiabank Manager put in extra hours to help the mill employees who were worrying about mortgage payments, for instance.
"It's been this all-encompassing group that has really been focused on our community and moving the employees of this tragedy as quickly and as easily as possible. That includes Raj and Sheila," says Martin, noting Basran tearing up at a meeting on Thursday morning.
Though many in the Robson and Canoe Valleys will be eager to help, Mayor Martin says it's a little bit early in the process for donations, as to her knowledge no one has had time to organize receiving efforts.
Those willing to donate time or money are encouraged to contact the RVSS, Mayor Martin says.
"We have different task forces doing different things," says Bob Thompson of RVSS.
"First and foremost we're helping the employees to try and retain them within the community… But we're helping anyone affected by the fire.
"You might be a person who worked at the mill, but you may have a business in town with fewer customers… We'll be doing a lot more in the (near) future," he says.
Visit the Goat's website for ongoing coverage of this story.
— With RMG files