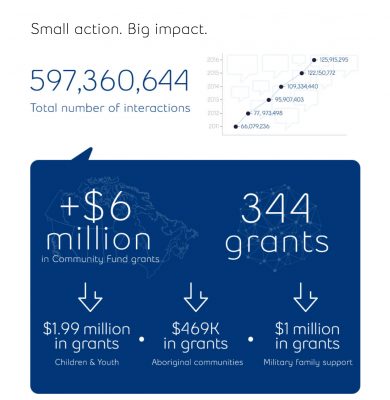 by EVAN MATTHEWS
EDITOR
Last week marked an important day for mental health awareness.
Jan. 26th, 2017, was designated as Bell Let's Talk Day, and it was the most successful day since the campaign's inception in 2010.
For those who don't know what Bell Let's Talk Day is, it is the marketing campaign of a charitable program put on by Bell Media focused on the support and promotion of mental health across Canada.
Twenty per cent of Canadians will experience mental illness or languishing mental health in their lifetime, according to the Canadian Mental Health Association (CMHA), which translates to more than 200 people in Valemount and 100 in McBride.
On Bell Let's Talk Day, many people all across Canada (and further) use the hashtag, #BellLetsTalk, on various social media platforms including Twitter, Snapchat, Instagram and Facebook. Bell donated five cents every time the hashtag was used.
So how successful was the 2017 Bell Let's Talk Day?
Bell reported a total of almost 132-million interactions and messages of support using the #BellLetsTalk hashtag, which equated to over $6.5-million in additional funding for Canadian mental health.
Since the program's inception, there have been over 597-million social media interactions and messages of support using the hashtag, #BellLetsTalk. Other key stats since the program's inception include roughly $80-million donated to mental health initiatives, one-million crisis and distress line callers spoken with, and four out of five Canadians report they are more aware of mental health issues, all according to the letstalk.bell.ca website.
Even Canadian celebrities have started joining the cause, most notably, Winnipeg-born Clara Hughes. Hughes is tied with fellow Winnipegger, Cindy Klassen, as the most decorated Canadian Olympian of all time, with a total of six medals, and she's competed at both the Summer and Winter Games.
Hughes, now the official spokesperson for the Bell Let's Talk initiative, uses her own past struggles with depression and mental health issues to relate to others, and help shed the stigma so commonly associated with mental health issues.
I felt uncomfortable sharing it for the same reason I always do: there are people who have it so much worse — some of whom I had been writing about — so who am I to complain? – Evan Matthews, editor
It's the same reason I found myself drawn to the subject in 2016.
Every student from my graduating class had to complete a project, the Independent Professional Project (IPP). I knew early on, I wanted to focus on mental health.
The long story short is I wrote a (roughly) 70-page booklet titled, The Road of Recovery, sharing three people's stories of languishing mental health, or mental illness, and additionally sharing my own.
The people I wrote about, and got to know included: One woman who suffered from depression and anxiety stemming from her workplace. One man who endured childhood physical abuse, an unloving home, which led to learning disabilities and trouble communicating from an early age, and ultimately ended up with this man spending a significant portion of his adult life in jail for a violent crime. Another man was, simply, a student — and with a lot of stress in his personal life and attempting to navigate an education system stacked against him, his life crumbled for a while.
And in reference to my story, initially, I felt uncomfortable sharing it for the same reason I always do: there are people who have it so much worse — some of whom I had been writing about — so who am I to complain?
But as I found out, mental health is a spectrum, and it has a place for everyone — even those who are totally and completely healthy.
Our society is a complex one, not black and white, but of nuance and grey areas. While each individual person has their own specific stresses and joys, these are things we all experience as part of the human existence.
Though individually our stresses may be different, too much on one person can cause languishing mental health, and can even (potentially) lead to certain mental illnesses.
So, in the words of Bell, let's talk.
To acknowledge we all have mental health, no matter where an individual falls on the mental health spectrum, is the first step in shedding the negative stigma that comes with talking about mental health.
There is even a program in Valemount called Shared Care, focused on helping with the community's mental health.
Sue VandenBergh is the project lead of the Shared Care pilot project in Valemount, which has 25 members making up the Local Action Team.
The team in Valemount has three main objectives including reduction of stigma and stereotyping, youth recruitment and empowerment, and raising community awareness.
Those who want to learn more about the program are encouraged to visit www.sharedcarebc.ca.