Valemount's very own community television station will soon re-visit a local story, not often told, yet the greatest military tragedy ever to occur on Canadian soil.
VCTV has a documentary in the works to feature the Canoe River train wreck, even going as far as to acquire the rights to use information on the wreck documented in Mark Wilson's Head-On: British Columbia's Deadliest Railway Accident.
"For me, this is a really important story," says VCTV Station Manager, Gord Peters.
"This is the most soldiers ever killed on home soil, ever in the Canadian Military, and most people don't even know."
Because VCTV hasn't started production, Peters says the film is at least a year away from completion, maybe longer.
The Canoe River train wreck happened 66 years ago right in our own backyard, southwest of Valemount.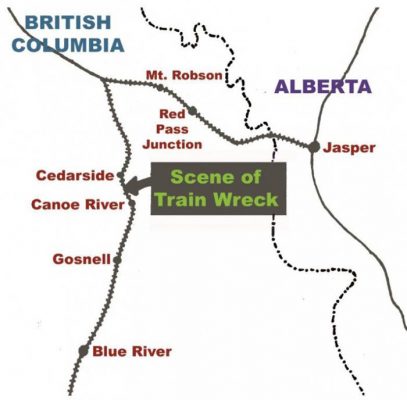 On Nov. 21, 1950, 17 soldiers and four engineers lost their lives when a westbound train carrying members of the 2nd Regiment, Royal Canadian Horse Artillery — on route to the Korean War — collided with an eastbound train just east of the Canoe River.
Many soldiers were scalded when steam heating pipes broke in the coaches, and local witnesses and rescuers reported a cloud of steam hanging over the two collided engine cars.
A replica train exists out front of the train station in Jasper, Peters says.
There were no medical supplies on board the troop train and the cars at the front, made mostly of wood, were splintered beyond recognition.
Many locals assisted in the rescue effort, according to the local stories, but 17 troops and the four engineers, two from each train, died on scene or succumbed later to their injuries.
"There are some heroes in this story that don't often get talked about," says Peters.
"It wasn't even a town at that point. It was just a few loggers and people working for the railroad, and they collectively decided to go and try to save some lives, and they did, I'm sure," he says.
The 17 soldiers who lost their lives are counted among the 516 Canadian soldiers who died as a result of the Korean War.
The reason for the crash would come out later as being a missing order to one of the engineers, and the telegraph operator charged was ultimately let go and served no jail time.
John Diefenbaker was the telegraph operator's defence council, and Diefenbaker would become Prime Minister of Canada six years later, partly based on the notoriety of the case, Peters says.
"It's interesting because there is a little bit of mystery, a little bit of political drama, a little bit of negligence and shoddy railroad work," says Peters.
Three per cent of the Canadian causalities in the Korean War were lost in this wreck, he notes.
Various monuments exist to commemorate the event, including the cannon, — Cenotaph Howitzer — out front of the Legion on Main Street in Valemount.
A howitzer is a short-barreled cannon (105 mm), usually intended to fire shells at a short range and high elevation.
In 1987, a memorial cairn was erected, too, by 2RCHA near the location of the collision, but it is not easily accessible.
There is also a monument at CFB Shilo in Manitoba, from where the soldiers were deployed.
VCTV is currently working on acquiring funding prior to writing a script for the documentary. No timeline has been set for production.
— With RMG files