By Pete Pearson
---
On 21 November 1950, tragedy struck. At 10:35 a troop train carrying members of the 2nd Regiment Royal Canadian Horse Artillery bound for Fort Lewis, Washington collided head on with the eastbound "Continental," the Vancouver to Montreal passenger train. The engines and leading coaches of both trains derailed and the forward cars of the troop train were thrown over an embankment and destroyed. There were no passenger casualties on the Continental however there was a heavy toll to the ranks of the troop train. 17 members of the 2RCHA and the 4 CN crew members from the two trains perished in the wreck.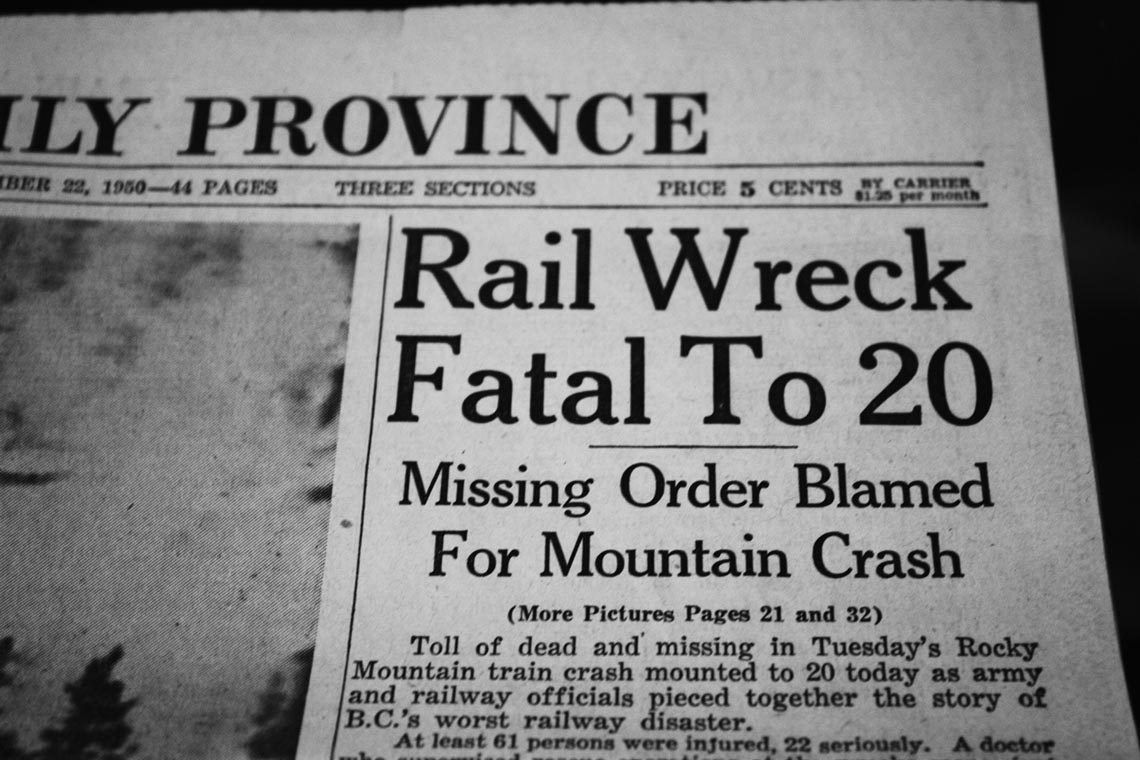 A critical error in copying train orders for the westbound troop train by 22-year-old Operator A.J. Atherton resulted in three words, "at Cedarside and" not being relayed to the train crew. Without those words the troop train expected to meet the passenger train at the Canoe River siding while the passenger was expecting to meet at Cedarside.
A combination of extreme cold (-18 C), fresh snow, fire from an oil leak and steam from the ruptured engines made rescue and recovery of the dead and injured very difficult. Dr. J.J. Kimmett of Edson was a passenger on the Continental and along with his wife immediately began treating those injured he could with the supplies on hand. This timely help no doubt saved many lives before the hospital train sent from Jasper arrived hours later.
The following is the roll of those that perished on that tragic day that was the largest single military death toll on Canadian soil.
2nd Royal Canadian Horse Artillery Gunners:
Arden J. Atchison
Weldon Eugene Barkhouse
Norman William Carroll
Frederick William Conway
Robert Arthur Craig
Austin Emery George
Urgain Joseph Levesque
Robert William Manley
Basil Patrick McKeown
Albert William Orr
David Owens Leslie Albert Snow
Albert George Stroudk
Joseph Thistle
James Milo Wenkert
James Joseph White
William David Wright
Canadian National Railroad Train Crews:
Engineer Harvey Church,
Fireman Adam Oleschuk,
Fireman Hank Prosinuk,
Engineer Jack Stinson
For more information on this tragic event, please contact the Royal Canadian Legion Branch 266 to arrange a visit of the War Heroes Museum upstairs in the hall.
We Will Remember Them