The number of Missing and Murdered Indigenous Women (MMIW) continues to rise in Canada, and one local woman is working to educate the valley.
Sherry Tinsley, owner of A Cut Above in Valemount, has four red dresses and one empty post in the field beside her store on Commercial Drive.
The dresses, she says, represent many of the MMIW. In Indigenous culture, red is the colour of life, love, blood and violence, according to Tinsley.
Though Tinsley's family has never had a family member go missing, fortunately, she says they have endured the hardship of friends and community members disappearing.
"The (red dresses) are about the larger meaning, the lives that have either ended or disappeared," says Tinsley, noting her purpose is to raise awareness to the larger issue rather than the individual stories.
In 2014, the RCMP released an official report detailing statistics related to MMIW, which has since been updated. At the time of the update, the report reads there are currently 1,750 missing or murdered women including white, non-white and blank race across Canada, but 1,017 of those women were Indigenous.
The update in 2015 raised the total of MMIW by 225, increasing the total number to 1,242.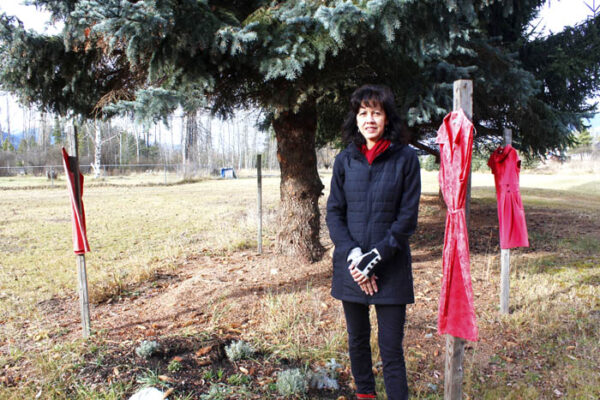 Indigenous women, who make up 4.3 per cent of Canada's female population according to the report, are a seriously overrepresented population in these statistics.
Going back to 1980, according to the report, the proportion of homicides in which of Indigenous women are killed is estimated to be at 21 per cent of all female homicides.
Originally, Tinsley sat only one red dress sat outside her shop — for over a year — with the same symbolic idea of honouring missing Indigenous women.
"I always thought there should be a girl waiting at a hair salon. It's haunting when you walk by a red dress and there is no one in it," she says. "You can almost feel them."
Then on one random, fateful evening, the dress disappeared.
"We were in tears," says Tinsley. "It was like someone stole that girl again."
But Tinsley didn't relent, she says, while knowing how important it is for people to become educated on the issue.
Since the disappearance of Tinsley's "first girl," she now has four dresses sitting in the field near her shop. The dresses hang on posts, which represent the girls. However, there are five posts — one of them sits empty.
The empty post, Tinsley says, is in remembrance of her first girl, the one that was stolen twice, and Tinsley does all she can to care for her girls.
Tinsley's mother is from Vanderhoof, the Saik'uz First Nation Band, she says, while Tinsley herself is only half native, not full.
"It's a different way of life… along the Highway of Tears," says Tinsley, adding women on the reserve make life choices with safety in mind, something many women who live off reserve cannot relate to.
"I couldn't walk around downtown because it's just not safe," she says, and because of her bloodline, the locals on the reserve view her as white.
However, a common misconception, according to Tinsley, is that violence within reserve communities is always indigenous-on-indigenous violence. It's not true, she says, as near Vanderhoof it's often the white men who create problems, while they are there to work.
"The white boys (as people refer to them on reserves), they will load you up in their car and take you to a back (road)," she says. "They do what they want with you and leave you for dead."
This isn't to say indigenous-on-indigenous violence doesn't exist, she says, and moreover, honouring the girls who have gone missing is of the utmost importance to Tinsley.
"The red dresses create conversation, which allows the (girls') spirits to be heard among us, through our community members," says Tinsley.
"Some people know, and some don't. There are a lot of uneducated people. They don't realize it's happening in our own back yard," she says.
If somebody isn't educated and aware of the issues surrounding their community, Tinsley says — ignorance is bliss — not much is done to correct the issue, which is why Tinsley is aiming to eradicate ignorance from Valemount's community on the topic.
A federal inquiry into MMIW has been launched, but no timetable has been set of the formation of its independent office or website.