by LAURA KEIL
The smell of empty bottles has given way to sawdust at 1020 Commercial Drive, as VARDA completes its renovations.
VARDA (the Valemount Area Recreation Development Association) recently moved into the building from their former space in the cabin next to the Village of Valemount offices, which was owned by the Village.
VARDA GM Curtis Pawliuk says they finally have room for everyone to sit at board meetings, as the old building was too cramped. The new building also provides storage space for VARDA's equipment, – snowmobiles, ATVs, groomers, tools, and signage that used to be scattered on private property, including in Pawliuk's backyard.
Pawliuk told the Goat earlier this year that part of the impetus for the move came from proposed developments that could make it harder to buy affordable property.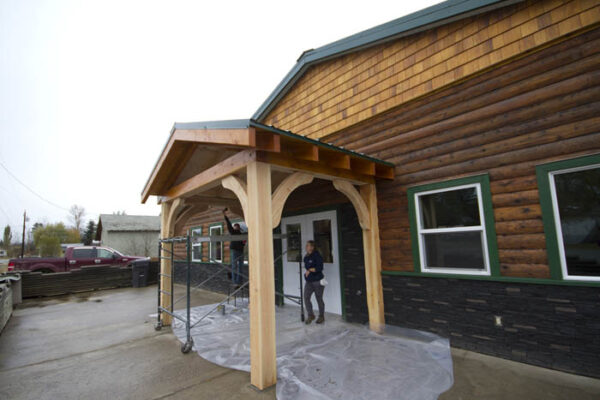 "Property is not going to go down, and this was our way to make sure we had a secure home in the future," he says.
The new building will allow for heated office space and a meeting room with the rest used as unheated storage.
VARDA had help from the façade program in the form of a grant to improve the exterior of the building.
VARDA is a non-profit association, consisting of local businesses and backcountry users. It focuses on public education on backcountry use and aims improve the backcountry experience for all user groups.
The bottle depot relocated to the Valemount Car Wash earlier this year.