A tanker aircraft working a fire near Kinbasket Lake sparked the interest of many campers, loggers and locals over the weekend.
Ryan Smith, a local logger, was working down by the lake when he saw the fire, which was located on the high side of the road near 12 km.
"There was a slash pile on the road, and somebody lit it," says Smith. "It was obviously started by someone who was down there."
The Prince George Fire Centre confirmed humans caused the blaze. RCMP also responded to the fire, and spent time interviewing people near the site.
The tanker came in on July 30, roughly between 6:30 and 7:00 PM.
"We thought it was a pleasure craft at first," says Smith. "Then we saw the bomber and the helicopter."
The fire crew leader on scene asked Smith and his crew to block traffic, Smith says, as there were quite a few people there.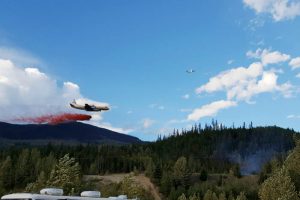 Smith estimate there were between eight and 10 vehicles down at the old mill site, and they all came to see the action once the tanker arrived.
"We were maybe 200 feet away from the bomber," says Smith. "I've never been that close… Even when I used to fight fires."
Amanda Reynolds, a communications specialist with the Prince George Fire Centre, says the aircrafts are brought in when the public is in close proximity to the fire.
"The air tanker put a retardant guard around the fire to prevent it from spreading," says Reynolds.
Retardant contains the fire for crews, and helps them put out the fire from the ground, she says.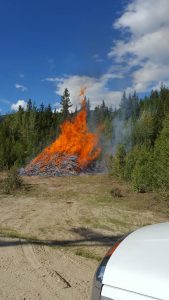 "It was extremely windy," says Smith. "There is dead pine above there, and if the fire got in there it could have went, big time."
The fire was put out within 24 hours of starting.
A number of fires broke out in the Robson Valley over the weekend due to lightning strikes, according to Reynolds.
The Prince George Fire Centre currently has 14 fires, Reynolds says, but they are all being monitored, and not a threat to the public.
B.C. as a whole currently has 57 fires burning, according to the Prince George Fire Centre.