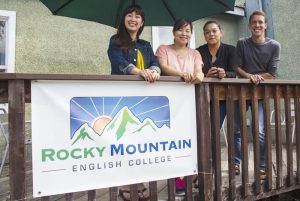 Learning English is no easy feat, but for the students trying at the Rocky Mountain English College, they say they're enjoying every minute of it.
Hailing all the way from Tokyo, Japan, 31-year-old Mayumi Murata came to Valemount in early February to work at one of the hotels, and soon realized she wanted to study English locally.
"I'm learning a new vocabulary… I'm very busy," she says with a smile.
The college's goal, according to Jared Smith, founder and teacher at the Rocky Mountain English College, is to teach the students English, and combine the language classes with outdoor activities.
26-year-old Naho Kikuchi says she's never done many of these outdoor activities before.
"I do so many activities here: hiking, camping and rafting, so many things."
Murata notes her favourite activity, so far, was constructing organic soap.
"It's like a science," she says. "I liked horse (back) riding too."
Murata is one of four full-time students at the College, which had two additional part-time students start on Tuesday — bringing the college's total to six students.
However, the college may not be done adding students just yet. The college is looking to sponsor another student for the month of August, but it's running out of time.
The main obstacle for the college to work around, according to Smith, is finding housing accommodations for the student they want to sponsor. At this point, nobody has volunteered.
"If it doesn't happen in the next few days — it won't happen at all," says Smith, making it more of a goal for next year.
"Learning English is one of the biggest struggles for immigrants when they arrive. We have lots of room in our school… so I would love to have a few more," he says.
No student has been chosen at this point, Smith says.
The college is open for July and August as a trial, Smith says, with the current class having students from Mexico, Japan, India and Ecuador.
Immersion is simply the best way to learn a language, Smith says, and Valemount offers a great location for it. A person who speaks Mandarin could easily get around parts of Vancouver using their native tongue, which isn't the case in Valemount.
Murata and Kikuchi hope the college can sponsor another student, as they say the experience is worth it.