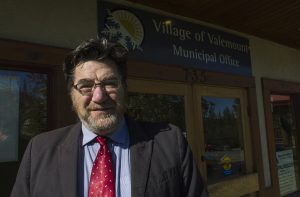 by EVAN MATTHEWS
There will be far less joking about which Mark is being referenced in Valemount Council chambers from now on.
Mark Brennan, corporate officer for the Village of Valemount, is no longer employed with the Village as of July 13.
The Village would not comment further, saying matters pertaining to employment within the Village are confidential.
Hired near the middle of April, Brennan spent only three months in the role of Corporate Officer with the Village.
"The Village of Valemount is presently reviewing an organizational re-structure within the guidelines of the Community Charter," reads the press release.
"The Corporate Officer position will be filled as soon as possible," it says.
The Village would not elaborate; only saying the corporation is reviewing its organization. No specific timeline was given to fill the position.
Brennan created an Administrative Report dated July 6 referencing Valemount's Official Community Plan. The report states the need to bring in outside consulting to help with the rationale being, "Unfortunately, due to staff turnover, little has been done to this project so far this year."
Brennan, a Vancouver native, spent the previous 13 years in Victoria and in the Fraser Valley before moving to Valemount.
His bio says he has worked for municipalities, regional districts and First Nations for over 25 years, including locations as diverse as Oak Bay, BC and the Village of Acme in Alberta. Previous positions include planner, bylaw enforcement officer, and director of public works, in addition to his more accustomed roles as administrator, treasurer and corporate officer.
Brennan replaced Valemount's former CO Andrew Young who took a job as CAO in Wells, BC, in March.