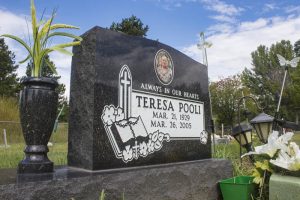 With family roots in mind, a Kamloops woman is trying to lay her mother- and father-in law to rest with dignity and respect. As a result, the Village will review some of its bylaws.
Patricia Pooli's mother- and father-in-law Teresa and Robert Pooli have passed on — with Robert's death being most recent. Her mother has an existing monument on the site and they want to duplicate it for her father-in-law.
"They're side-by-side plots; no invasion of anybody else's property."
But the Pooli's monuments exceed the measurements outlined in the bylaw.
The Village of Valemount's bylaw 685 says the measurements of an owned plot for one person can't exceed 12 by 20 inches, whereas a plot for two people may not exceed 18" by 30 inches.
"It's just so sad that they can't be laid to rest, with dignity, in the community they helped to build," says Patricia.
The Pooli name is a common one in Valemount. Patricia says the family helped build the community, and that they were pioneers of Valemount. The pair emigrated from Italy during the wartime, says Patricia, with their three-year-old son. They raised six children in total — all in Valemount.
Bylaws are guidelines more than anything else, according to Patricia, and she thinks a variance should be allowed due to her situation.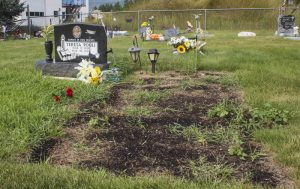 Mark Macneill, CAO for the Village, says variance requests are applicable to permit applications, not bylaws. Bylaws may be reviewed for multiple reasons including clarity, language, consistency, and fitting the Village's needs, he says.
"We're aware of the concerns with respect to the cemetery bylaw 685," says Macneill. "We're in the ongoing process of reviewing the Village's policies and bylaws, including this one."
Macneill noted the Village is already reviewing its bylaws, and now that Patricia has brought the issue to council, this is a perfect time to address number 685 – whether or not the decision happens in time, or is in favour of the Pooli family, remains to be seen.
"I understand the bylaw, but it doesn't pertain to our situation," says Patricia. "They're reviewing the bylaws, but they won't consider the variance."
Patricia would not specify cost the Pooli family has incurred as a result, but the family has started planning for alternate arrangements, she says.
"We have to move the existing monument," Patricia says. "It's a huge expense to the family… It's just a lack of compassion. We've carried on."