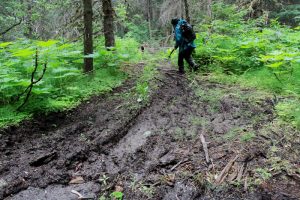 by LAURA KEIL
Members of the Yellowhead Outdoor Recreation Association (YORA) held a work bee in June to re-route a hiking trail that was damaged by ATVs a month earlier.
YORA board member Patricia Thoni says the ATV riders said they didn't know the trail was off-limits to ATVs. YORA members installed a "No motorized vehicles" sign to make it clear.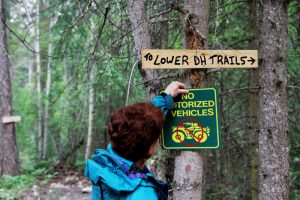 The riders also damaged a chunk of the bike park trail, which they helped to restore. The riders did not compensate the club for the hiking trail, however.
YORA members fended off swarms of mosquitoes in order to re-route the trail to higher ground away from the mud bog.