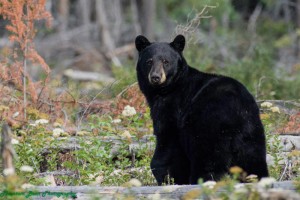 by BOB COVEY
On May 21, officials received a call that a black bear had approached a group of fisherman near the fifth lake on the Valley of the Five Lakes trail, about 10km south of Jasper. The bear had got hold of the group's packs while fishers were preparing their boat for the water, said wildlife specialist Mark Bradley.
When officials arrived on scene approximately an hour and a half later, they interviewed the fishers. Suddenly, they heard shouting that the bear had come back.
"[Parks Canada staff] were walking towards the bear, yelling and readying their firearms," Bradley said. "The bear continued to walk toward them. At that point it was deemed to be a high safety risk."
A resource conservation staff member shot the bear with a 12-gauge shotgun.
"The decision to put it down was based on the bear's immediate behaviour," Bradley said. "Since it would not leave, it was deemed to be food-conditioned and therefore highly unlikely to be amenable to teaching it to fear humans."
The bear had a history of bold behaviour towards humans. The week before, it had been spotted by Parks Canada staff approaching cars, looking for hand-outs. When Parks Canada staff shot at it with paintballs—a non-lethal hazing technique—instead of running away, the bear began to rummage around where the paintballs had hit the grass "as though it was used to people throwing food at it," Bradley said.
"We had some evidence it had been fed from cars on the highway."
The bear, a 200-pound male, was approximately six-years-old, according to its tooth wear. The bear was in good physical condition, Bradley said.
While no food-conditioned bears were destroyed in 2015, in 2014, Parks Canada was forced to destroy two problem black bears. Similar to this recent incident, one bear was approaching hikers on the Valley of the Five Lakes trail. Another had been getting into coolers at Kerkeslin campground.
"It's almost guaranteed when a bear starts to associate people with food that eventually we're going to have to shoot it," Bradley said.
Bradley said that the main takeaway for park users is to never feed bears, but also to travel in groups, keep dogs on a leash, carry bear spray and have control of any food or snacks they might be packing. He also added that when erected, closures should be respected.
"In this case the closure was put up because another bear might have happened by and wanted that carcass," he said.
The carcass was moved to a place off trail where humans will not encounter it.
A version of this story was first published in the Jasper Local. Get your Jasper news at www.thejasperlocal.com