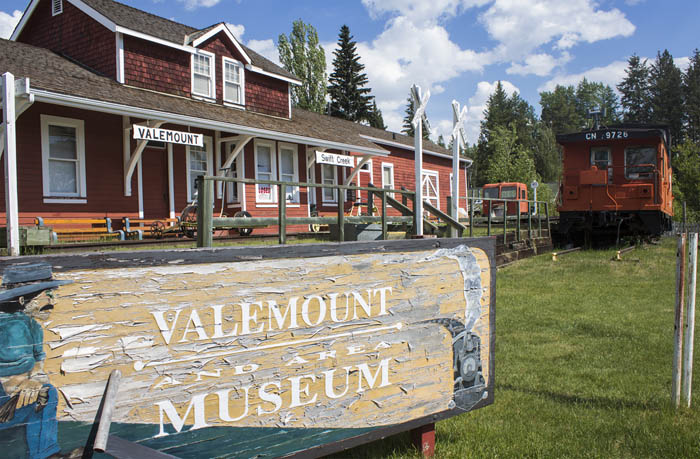 by EVAN MATTHEWS 
The Village of Valemount's museum and library will see an additional $3,000 each in their 2016 maintenance fund.
Sue Marko, administrator for the Valemount Museum, said there hasn't been enough funding to date, hence the increase.
"The siding boards definitely need to be replaced, along with other work including scraping, painting and shingle replacement," said Marko. "The building needs some TLC."
At the May 10 council meeting, council voted in favour of the additional funding. The $3,000, added to the pre-existing fund of $2,000 brings the total to $5,000 in both the library and museum's maintenance funds, respectively.
The village's Corporate Officer, Mark Brennan, said there is work to be done and the added funds will help those jobs along.
"There is always money for those two buildings in the budget for maintenance," said Mark Brennan, the village's corporate officer.
"We wanted to make sure there was enough there this year to get specific jobs done," he said.
Technically speaking the village has added $6,000 to the funds out of the village surplus, Mayor Jeanette Townsend said at the meeting.
Councillor Hollie Blanchette suggested the idea, so even if the funds aren't used — when repairs are made the village has already put some money away.
"As I understand it, 'unused' money is rolled into the next year," said Marko. "But when you're dealing with a building that's 102 years old, I don't think you can expect to stock away very much."
Aside from the day-to-day operations, Marko said there is already evidence of maintenance taking place. She said the makeover of the museum lobby is complete, and retail items — now on order — will fill the space.
"Additionally, we hired Julian Ambrose-Green, an artist from Dunster, to create a new exhibit in our basement," said Marko. "The exhibit celebrates the life of one of the founders of the museum, Ishbel Cochrane."
In addition to the added funding, the museum is continuing with fundraising efforts of its own, and a funding agreement is in place with the Regional District of Fraser- Fort George for the next five years.
"The museum tries its best to raise funds, but this is a very small community with limited volunteer resources," said Marko. "Our board just had the Lilac Walk Fundraiser… where I understand we received some donations."
Without the funding from the RDFFG, Marko said the "funky" little museum would not be able to keep its doors open, and she is very thankful.