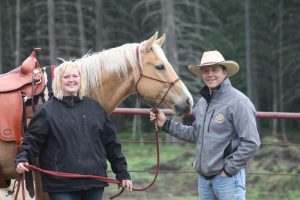 by KORIE MARSHALL
Martina Wall has had her horse Winchester since January, and she had a saddle, though it didn't fit either Winchester or Wall very well. That was until a volunteer with a national riding program and local organizers worked some magic.
Wall took part in a 6-day, level 1 and 2 Parelli natural horsemanship clinic in early May, held at Cardinal Ranch. The Parelli system focuses on training people to understand horse behaviour, and to develop problem solving skills while considering the non-verbal feedback and expression of the horse.
One of the participants in this clinic, taught by Buddy Cardinal, was a volunteer with the Parelli organization named James Veil, who came all the way from Pennsylvania. He took an interest in Wall's training, says Devanee Cardinal, and recognized she needed a new saddle.
"To our surprise, he told us that if we could get a saddle to the ranch by the next day, he would pay for it," said Devanee.
Devanee found the correct saddle in Calgary, and was able to get it to Jasper, and then found someone to drive to Jasper to pick it up.
At the end of the workshop, participants were going through their personal highlights and what they will take away, and Wall started to tell hers, but Veil interrupted her. He apologized, and started to make a speech about the Parelli system, and how Parelli likes to give back to the horse community, often through give-aways at big events that draw thousands of people. But this time Parelli decided to do things differently. Wall finally realized he was talking about her when she turned and saw Devanee leading  Winchester to her, all decked out in the new saddle and blanket.
Saddles are worth in the range of $2000, but Wall says it is not just a gift of a saddle – she says it was a gift of support, kindness and confidence, and she'll be forever grateful to the Cardinals and to Veil.