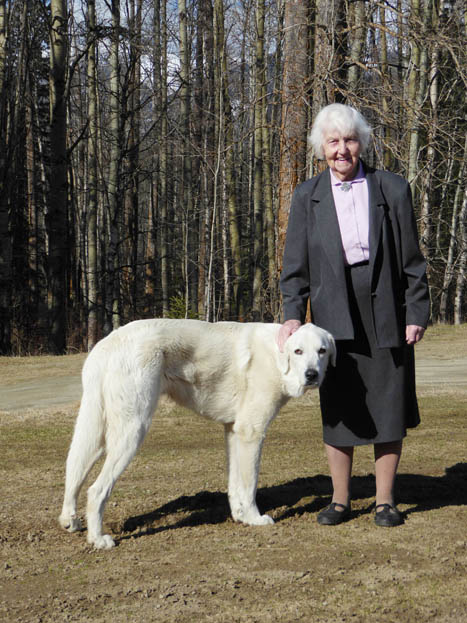 Photo: Matthew Wheeler – A recent photo of Marilyn Wheeler taken just over a month ago with her beloved dog Patch.
by KORIE MARSHALL
with files from DANNIELLE ALAN and MATTHEW WHEELER
Last week, local historian and McBride's "Iron Lady" Marilyn Wheeler died of a stroke, just weeks short of her 84th birthday.
"She and her husband John Sr. became immersed in the history of this valley as soon as they stepped out of their 1957 Dodge on the road from Jasper in 1958," said Robert Frear, another local historian. "Their unwavering dedication to our history was with them to the day they both died."
Born in 1932 in Sussex, England, Marilyn received her teaching certificate from Bletchley Park Teacher's Training College and taught in boy's schools in England until 1955. She then emigrated to Canada to teach in Saskatchewan. In 1958 she married fellow teacher John Wheeler, and they moved to the Robson Valley. Together they raised their two sons, Matthew and John (junior) on the family farm that they developed, taught a generation of school children and were active in the community they came to call home.
Marilyn was deeply involved with the McBride Farmer's Institute for over 50 years and was a strong advocate of local agricultural issues. She founded and led several adult and children's choirs and served on the local hospital board.
Marilyn was elected to the Regional District in 1980 and served through 1993. She served on the board of the College of New Caledonia, was Chair of the Northern Interior Board of Health and served on a multitude of boards and committees. She was appointed a Justice of the Peace in 1983 through 1998 and was appointed a marriage commissioner in 1994. She performed nearly 100 marriages in the Robson Valley.
An avid historian, Marilyn produced the first edition of The Robson Valley Story, published in 1979. A much larger updated edition in 2008, The Robson Valley Story – A Century of Dreams was published by the family company, Sternwheeler Press with the help of her son Matthew Wheeler.
Marilyn was a passionate advocate of the arts, of culture and of heritage. She was the current Chair of the Robson Valley Museum and Archives and Vice Chair of the Whistle Stop Gallery Society. She has served as Chair of the McBride and District Public Library and was currently serving as a trustee. She was also an integral member of the RDFFG Cultural Services Committee.
To the day of her death she continued to be a health activist, to farm, and to write. Predeceased by her husband John, Marilyn has had an impact on the Robson Valley that is hard to define, but that has shaped the very nature of our community. She had time for everyone and approached every problem with a cheerful resoluteness and determination that will be dearly missed, as will she.
Frear as well as others have called Marilyn the Iron Lady of McBride. He says he only hopes to emulate the historic work of Marilyn and her husband John. It will take a massive effort to maintain the output "from two brilliant minds such as these," says Frear.
A celebration of Marilyn's life (potluck and stories) will be held 5:30-8:30 (doors at 4) June 9th, on what would have been her 84th birthday, at 521 Main St. in McBride.