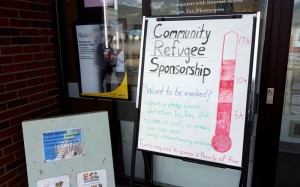 by EVAN MATTHEWS
The Valemount Learning Centre is reaching out to its supporters one last time before May. 31, in the hopes of bringing a refugee family to the village.
Jared Smith, ESL and Settlement Assistance with VLC, said the date was set to gauge if enough public support existed. With a bank account dedicated to donations now open, VLC is still well short of its goal — meaning June could mark the end of their efforts.
"We're not close to the $17,000, but we're getting there," said Smith.
Through the blended visa office referred program, sponsors are asked to have proof of funds to support the family. To sponsor a group of four, the government suggests having $17,000 in a bank account before applying.
"Through in-kind donations, we might get away with raising a little bit less than $17,000," Smith notes.
In-kind donations include household items a family would need immediately, Smith said, like furniture, clothing, kitchen supplies, etc. He said as items are crossed off the list, the goal comes down a bit.
He says they could also re-evaluate their goal to bring four people, downsizing to, say, two instead.
In early January, Smith said VLC held a public meeting where pledge sheets were handed out to those in attendance. At the end of January, pledge sheets were collected indicating people were willing to give $13,000, although many more volunteered their time.
"It was a way for people to say, 'if we proceed with this I can give this amount, or I can give my time in this way, and so on,'" said Smith.
He said the pledge sheets were in a way a preliminary promise, and now residents have a chance to show what a welcoming community Valemount is, and what it has to offer.
"We have a lot of… temporary foreign workers in the tourism industry. It's quite a big group," said Smith. "They've integrated into Valemount quite well.
Smith said some residents have expressed concern about security, but in his view if someone wanted to create any sort of instability, they wouldn't do it through the refugee system.
In 2011, the last year census data was available, it indicated immigrants made up 10 per cent of Valemount's population. At the same time, the national average sat at roughly 20 per cent, according to Statistics Canada.